Albania lawmaker throws ink at prime minister in alleged protest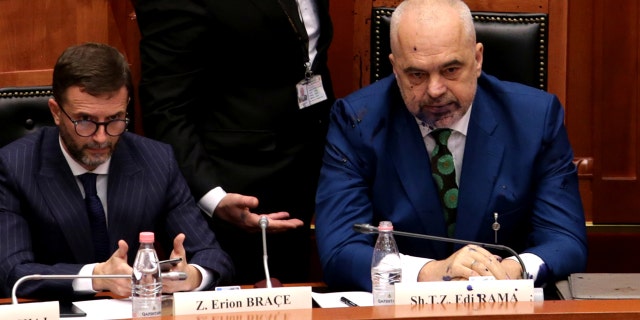 TIRANA, Albania – An opposition lawmaker in Albania was suspended from parliament for 10 days after he threw a bottle of ink at the prime minister.
Edi Paloka was asked to leave the parliament hall Thursday after he threw ink at Socialist Prime Minister Edi Rama, who was reprimanding fellow lawmaker Lulzim Basha for accusations of corruption he made against the leftist government.
They were discussing a vote on neighboring North Macedonia's accession to NATO.
US AMBASSADOR GRENELL BLASTS GERMANY FOR CELEBRATING IRANIAN ISLAMIC REVOLUTION ANNIVERSARY
Photos from the parliament hall show Rama with ink on his mouth and face.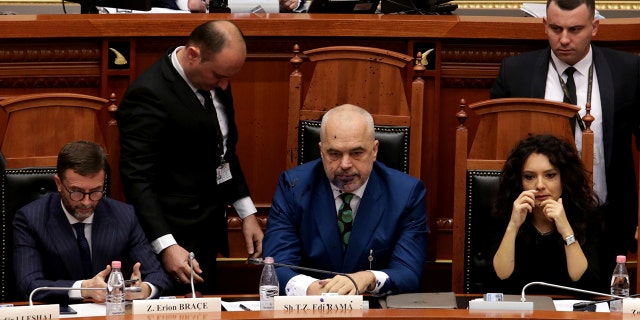 According to the center-right Democratic party, Paloka's reaction came because of alleged constant mockery from Rama during previous parliament sessions.
"The action of ink throwing is a rejection of the bullying exerted by the PM, which is witnessed by the public opinion," the party said in a statement, according to Xinhua News.
AUSTRALIAN SENATOR APOLOGIZES FOR WIPING HIS OWN BLOOD ON FELLOW LAWMAKER'S DOOR AFTER SCUFFLE IN PARLIAMENT
Police said Paloka went to the parliament session "with a prepared chemical solution" and an investigation has been launched.
The session was temporarily suspended and lawmakers later voted unanimously in favor of the NATO accession protocol for North Macedonia. Albania has been a NATO member since 2009.
CLICK HERE TO GET THE FOX NEWS APP
The opposition is planning a rally Saturday asking for a transitional Cabinet before municipal elections in June.
The Associated Press contributed to this report.