Al Qaeda-linked group blamed for suicide attack on Iran's Revolutionary Guard, killing 20: state media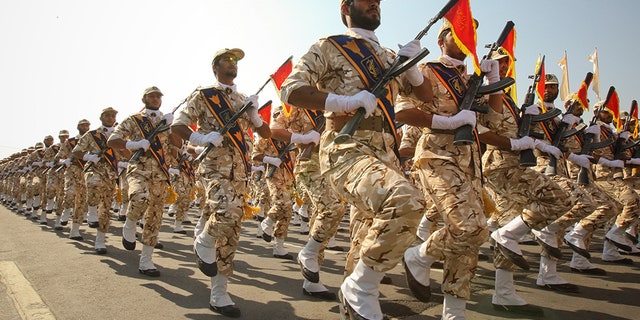 NEWYou can now listen to Fox News articles!
Twenty members of Iran's elite Revolutionary Guard were killed Wednesday when a suicide bomber struck the bus transporting the security forces, state media has reported.
Another 20 people were wounded in the attack, which Iranian state media blamed on the Al Qaeda-linked Sunni extremist group Jaish al-Adl.
State-run IRNA news agency, citing what it described as an "informed source," reported the attack on the Guard in Iran's Sistan and Baluchistan province.
The Guard issued a statement saying a vehicle loaded with explosives targeted a bus carrying border guards affiliated with its force.
Both official and semi-official Iranian media outlets blamed Wednesday's bombing on Jaish al-Adl, or "Army of Justice," saying the group had claimed the attack.
FORMER US COUNTERINTELLIGENCE AGENT ALLEGEDLY SPIED ON COLLEAGUES TO HELP OUT IRAN, INDICTMENT REVEALS
The attack happened in Iran's southeastern Sistan and Baluchistan province, a major opium trafficking route, where the group has launched other attacks in the past.
The bombing comes on the day of a U.S.-led conference in Warsaw, Poland that included discussions of what the United States described as Iran' "malign influence" across the wider Middle East.
It also comes two days after Iran marked the 40th anniversary of its 1979 Islamic Revolution and four decades of tense relations with the West.
Iran's Foreign Minister Mohammad Javad Zarif directly linked the meeting to the attack.
"Is it no coincidence that Iran is hit by terror on the very day that (hashtag)WarsawCircus begins?" Zarif wrote on Twitter. "Especially when cohorts of same terrorists cheer it from Warsaw streets & support it with (Twitter) bots?"
CLICK HERE TO GET THE FOX NEWS APP
The attack comes as Iranian officials have said they blame Saudi Arabia and the United States for stirring up dissent in the country. President Donald Trump, who campaigned on a promise of tearing up Tehran's nuclear deal with world powers, withdrew the U.S. from the accord last May. Since then, the United Nations says Iran has kept up its side of the bargain, though Iranian officials have increasingly threatened to resume higher enrichment.
The Associated Press contributed to this report.