After deadly attack, Colombia's president wants rebels to set deadline for reaching peace deal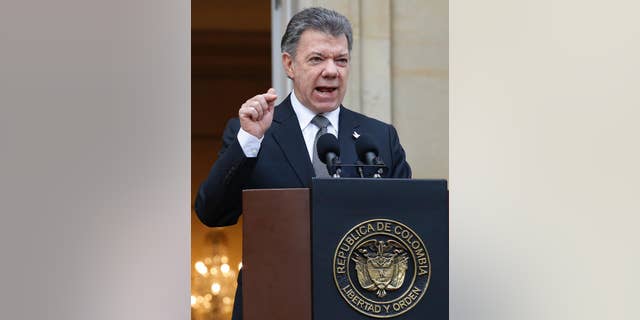 BOGOTA, Colombia – Colombian President Juan Manual Santos is urging leftist rebels to demonstrate their commitment to ending a half-century conflict by setting a deadline or reaching a peace accord.
Santos didn't offer any cutoff date to conclude peace talks taking place the last two years in Cuba between the government and the Revolutionary Armed Forces of Colombia.
But in a sharply worded rebuke he said Colombians' patience is wearing thin after guerrillas this week attacked an army platoon sleeping in the field and killed 11 soldiers.
The attack came as a shock to war-weary Colombians because it occurred after months of steady progress in negotiations and amid a unilateral cease-fire by the rebels. While Santos expressed outrage over the attack, he gave no indication he is considering ending talks.