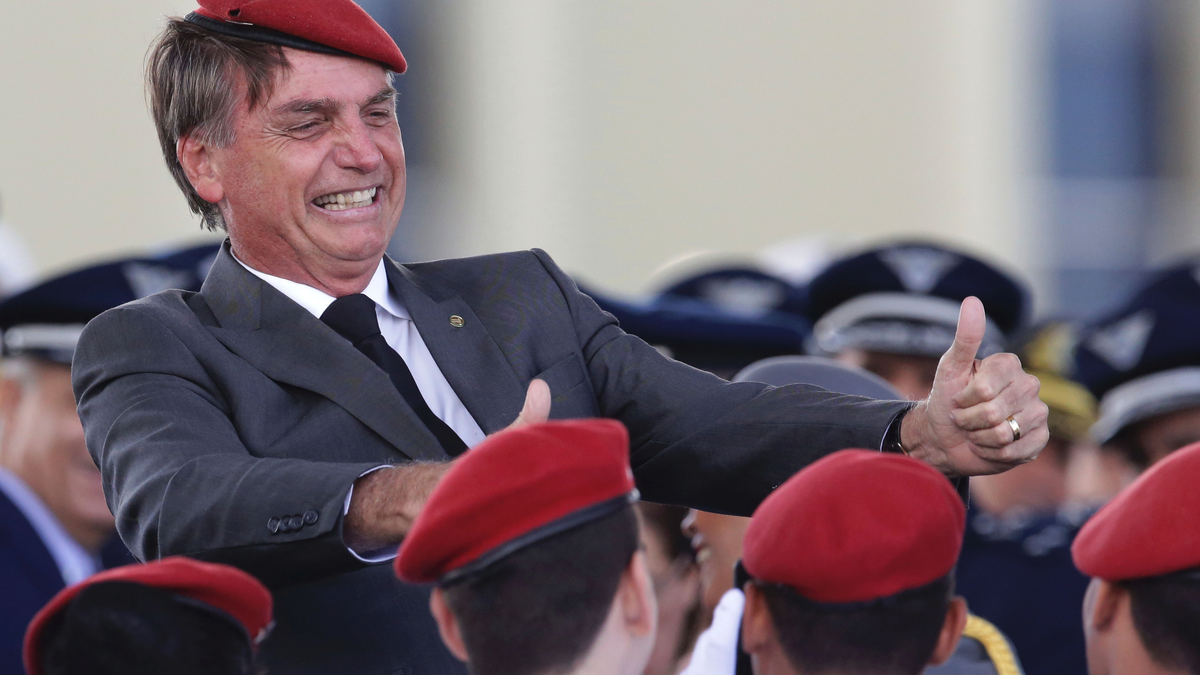 SAO PAULO – Far right congressman Jair Bolsonaro is leading polls for Brazil's October presidential election, but he has attracted widespread criticism for his controversial views — and his often impolitic way of expressing them. On Saturday, women's groups around Latin America's largest country are organizing protests against him. Below are some examples of his comments about women, gay people and other minorities that have raised concerns — and sometimes led to charges.
___
During an interview with the Folha de S.Paulo newspaper in January 2018, Bolsonaro explained how he used the housing allowance he received as a congressman.
"Since I was a bachelor at the time, I used the money to have sex with people," he said.
___
In a speech at Rio de Janeiro's Hebraica Club in April 2017, Bolsonaro spoke about his family.
"I have five children. Four are men, and then in a moment of weakness the fifth came out a girl," he said.
___
In the same speech in April 2017, he spoke about a settlement, or quilombo, which was founded by the descendants of slaves.
"I visited a quilombo and the least heavy afro-descendant weighed seven arrobas. They do nothing! They are not even good for procreation," he said, suggesting that people in the settlement were overweight.
Seven arrobas is roughly the equivalent of 231 pounds (105 kilograms).
___
In the lower house of Congress in September 2014, Bolsonaro made heated comments during an exchange with congresswoman Maria do Rosario of the leftist Workers' Party.
"I wouldn't rape you because you don't deserve it," he said, in response to remarks made by do Rosario in 2013 when she called Bolsonaro a rapist and said he encouraged rape.
Bolsonaro later repeated his comments to the Zero Hora newspaper, adding that he was not a rapist but, if he were, he would not rape do Rosario because she is "ugly" and "not his type."
Bolsonaro is slated to stand trial on charges of slander and incitation to rape for these comments.
___
In an interview with Playboy magazine in December 2011, Bolsonaro said that he "would be incapable of loving a homosexual son."
"I would prefer my son to die in an accident than show up with a mustachioed man," he said.
"Bigodudo," or mustachioed man, is a phrase in Portuguese that is used to describe a macho man.
___
During an interview aired by the Bandeirantes TV network in March 2011, Bolsonaro responded to a question about what he would do if his son fell in love with a black woman.
"I won't discuss promiscuity," he said. "I don't run that risk because my sons were very well educated."
___
In May 2002, Bolsonaro threatened gay people after then-President Fernando Henrique Cardoso was seen in a photo holding a rainbow flag at an event in support of gay marriage.
"I won't fight against it nor discriminate, but if I see two men kissing each other on the street, I'll beat them up," he said.