A look at major militant attacks in Egypt over 2 restive years since Islamist president ouster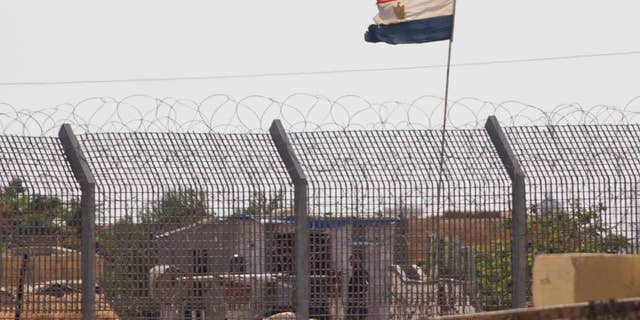 CAIRO – Islamic militants unleashed a wave of simultaneous attacks Wednesday on Egyptian army checkpoints in the restive northern Sinai Peninsula. The coordinated assaults set off the fiercest clashes in decades in the peninsula, killing at least 53 soldiers and more than 50 insurgents, security and military officials said.
Here's a look at militant attacks in Egypt since the military ousted Islamist President Mohammed Morsi from power nearly two years ago:
--June 29, 2015: A car bomb kills Egypt's chief prosecutor, who had overseen cases against thousands of Islamists, in the country's first assassination of a senior official in 25 years.
--June 10, 2015: Militants try to attack the ancient temple of Karnak in southern Egypt with a suicide bomber who blows himself up and two gunmen battling police. No sightseers were hurt in the thwarted assault.
--June 3, 2015: Gunmen on a motorcycle open fire outside the famed Giza Pyramids, killing two police officers.
--May 16, 2015: Three judges are gunned down in the Sinai peninsula after a court sentences ousted President Mohammed Morsi to death. The Sinai-based Islamic State affiliate claims responsibility.
--April 12, 2015: At least 14 people, mostly Egyptian policemen, are killed in separate operations when militants attack a police station in Sinai and detonate a roadside bomb on a passing armored vehicle.
--April 9, 2015: 11 civilians and two soldiers are killed in three attacks in Sinai.
--April 2, 2015: Militants hit a military checkpoint in Sinai and kill 15 soldiers, while near-simultaneous attacks elsewhere in the peninsula leave three civilians dead.
--Jan. 29, 2015: Extremists targeting military positions in Sinai kill 31 security forces in a sophisticated and multi-pronged set of attacks. The Sinai-based Islamic State affiliate claims responsibility.
--Nov. 10, 2014: Sinai-based jihadi organization Ansar Beit al-Maqdis pledges allegiance to the Islamic State group, giving the organization a foothold in Egypt.
--Oct. 24, 2014: A coordinated assault on an army checkpoint in the Sinai Peninsula kills 31 Egyptian troops, in the largest single attack in decades on the military.
--July 19, 2014: Gunmen armed with rocket-propelled grenades attack the border post in Egypt's largest province al-Wadi al-Gedid, which straddles the Libyan and Sudanese borders, killing 22 soldiers.
--Feb. 16, 2014: An explosion tears through a bus filled with South Korean sightseers in the Sinai Peninsula, killing three Korean tourists and an Egyptian driver.
--Jan. 24, 2014: A truck bomb targeting Cairo's security headquarters kills four people and causes heavy damage to a nearby museum dedicated to Islamic arts and history.
--Dec. 24, 2013: A car bomb rips through a security headquarters in the Nile Delta city of Mansoura, killing 16 people, almost all policemen. Ansar Beit al-Maqdis claims responsibility.
-- Nov. 21, 2013: A suicide car bomb hits a bus convoy of off-duty Egyptian soldiers in the Sinai Peninsula, killing 11 and wounding 37.
--Nov. 18, 2013: Police Lt. Col. Mohammed Mabrouk is assassinated in Cairo. Ansar Beit al-Maqis claims responsibility, saying it was in retaliation for the recent arrest of female Morsi supporters.
--Sept. 5, 2013: Egypt's interior minister narrowly escapes assassination when a car bomb tears through his convoy, wounding 22 people and leaving a major Cairo boulevard strewn with debris. Ansar Beit al-Maqdis claims responsibility.
-- Aug. 19, 2013: Suspected Islamic militants ambush two police minibuses in the Sinai peninsula, line up 25 policemen and shoot them dead.
--Aug. 14, 2013: On the same day that security forces disperse two sit-ins of Morsi supporters in Cairo, killing hundreds, militants ransack a police station in the village of Kerdassah, near Cairo. The attackers kill 15 officers, including the police chief, and mutilate some of the bodies.