'A Gay Girl in Damascus' Blogger Kidnapped at Gunpoint in Syria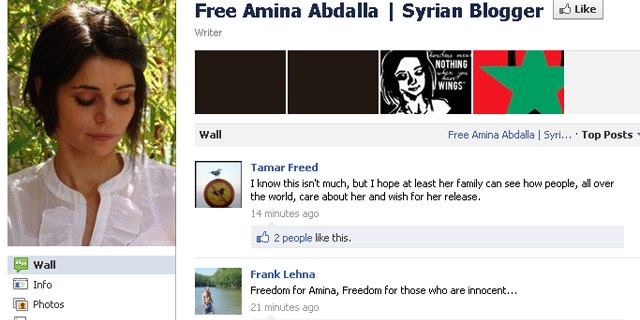 The popular lesbian author of the Syrian blog called "A Gay Girl in Damascus" was kidnapped by armed men in Damascus.
Amina Arraf, who blogs under the name Amina Abdallah, was kidnapped while she and her friend were going to a meeting in the Syrian capital. Her blog reportedly started in February and it features poems along with criticism of the Syrian crackdown on protesters.
Details about the abduction indicate that Amina was kidnapped by three armed men in their early 20s, according to a blog post from a woman who identified herself as Amina's cousin. She wrote that the kidnappers are likely one of the security services or the Baath Party militia.
"Amina hit one of them," Rania Ismail, the cousin, posted. "One of the men then put his hand over Amina's mouth and they hustled her into a red Dacia Logan."
Ismail wrote that it is unclear who to appeal to to get the woman back and her kidnappers may be forcibly deporting her.
Sandra Bagaria, the woman's partner, told FoxNews.com that she "crashed to the street" sobbing when she learned Monday night that Amina was kidnapped.
"I haven't had a moment of calm since," she said from her home in Montreal. "And I haven't heard any updates about her since I found out she's missing. It's a nightmare."
The two met in January and have been in touch throughout the Syrian protests. Bagaria said she was in email contact with Amina an hour before the kidnapping.
"She was going to meet with two activists," Bagaria said. "And that was it; it was the last time I heard from her."
The U.S. State Department said Tuesday that it is looking into the issue.
Amina, whose blog has drawn fans from across the globe, holds both Syrian and American citizenships.
Thousands of people are supporting a "Free Amina" Facebook page, calling for her safe release.
On Sunday, Amina wrote about the Syrian crackdown on protesters.
"They must go, they must go soon. That is all there is to say."
"The Syria I always hoped was there, but was sleeping, has woken up," she had told the Guardian newspaper in an earlier interview. "I have to believe that, sooner or later, we will prevail."
Fox New's Edmund DeMarche and Matt Higgins contributed to this report.