3 militants killed in ISIS attack on Afghanistan's main spy agency
NEWYou can now listen to Fox News articles!
Gunmen opened fire near a training facility on Monday in Afghanistan's main intelligence agency in Kabul, leading to a fight with security forces that resulted in three militants being killed, local authorities said.
Although details of the attack are still unclear, a spokesman for the Interior Ministry told Reuters that two members of Afghan security forces were wounded but their injuries were not life threatening.
The attackers reportedly used rocket-propelled grenades and light weapons. The Islamic State terror group claimed responsibility for the attack in Afghanistan's capital.
"Initial reports indicate the gunmen are wearing police uniforms," Nasrat Rahimi, deputy spokesman for the Interior Ministry, told CBS News.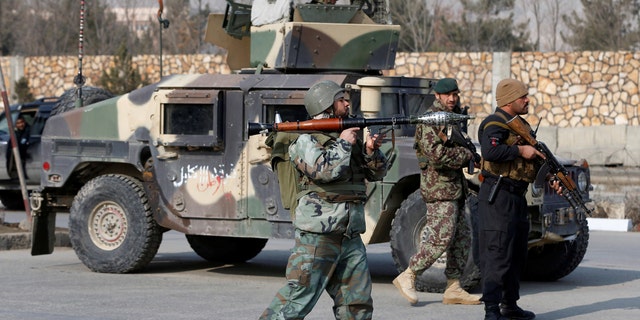 IRAQ HANGS 38 ISIS, AL QAEDA MILITANTS IN MASS EXECUTION
The Afshar area of Kabul where the attack was under way is close to a training facility of the National Directorate of Security, as well as a private university.
Another government official said the attack was near the intelligence agency training center.
Islamic State claimed responsibility in a statement on its Amaq news agency, in which it said two of its fighters had attacked an intelligence agency center in Kabul.
The group, which first appeared in Afghanistan in 2015, has claimed responsibility for a number of attacks in Kabul over the past several months.