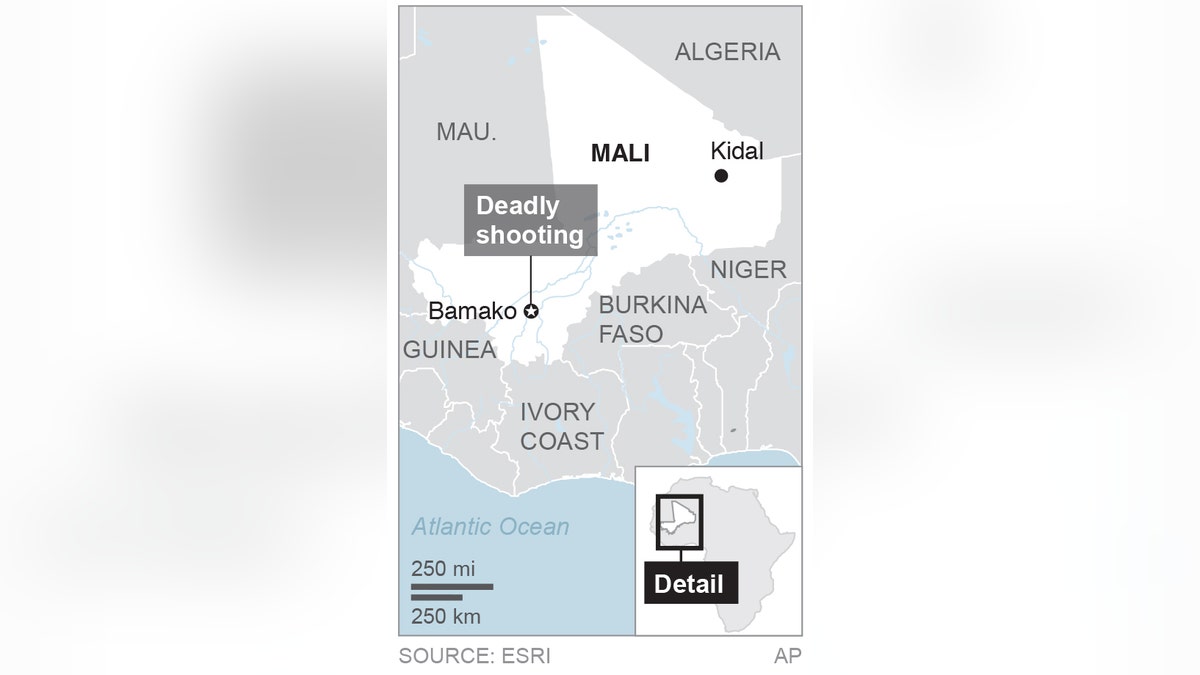 BAMAKO, Mali – Three people including a U.N. soldier were killed and 14 wounded in a rocket attack early Sunday on a U.N. base in Mali's northeastern city of Kidal, the United Nations mission in Mali said.
More than 30 rockets and shells hit the U.N. base in Kidal at early Sunday morning, killing a U.N. soldier and two civilian children, said Olivier Salgado, the spokesman for the U.N. mission in Mali. An additional 14 people were wounded.
The attack came a day after a masked gunman sprayed bullets into a restaurant and bar in Mali's capital, Bamako, killing five people, including a Frenchman and a Belgian.
A group formed by the elusive and dreaded Algerian extremist leader Moktar Belmoktar claimed responsibility for the rare burst of violence in the Malian capital. Belmoktar said it was a reprisal attack "against the heathen West which has offended our prophet" and in revenge for the killing of a leader of the Al Mourabitoun group in a French-Malian military operation.
The claim of responsibility by Al Mourabitoun, or The Sentinels, was carried on the Mauritanian news website Al-Akhbar which often receives messages from Malian extremists. Al Mourabitoun is a northern Mali jihadist group allied with al-Qaida.
There was no immediate claim of responsibility for the attack Sunday on Kidal, but the Islamic extremist group Ansar Dine claimed a similar attack against U.N. peacekeepers in Kidal in September 2014. Kidal is located some some 930 miles northeast of Bamako which has been spared the sporadic violence in the north, once the stronghold of Islamist extremists led by Al Qaeda's North African affiliate.
Saturday's bloody attack at La Terrasse, a restaurant and bar that is popular with foreigners, stunned Malians. In addition to those killed, nine people were wounded including two experts for the U.N. mission, according to the U.N. stabilization mission in Mali. The two are Swiss soldiers and were flown to Senegal for treatment, said the Swiss Defense Ministry.
Islamist extremists seized control of northern Mali in 2012 with the aim of imposing Sharia law in the country.
French forces led a military operation in early 2013 that largely killed or scattered extremists from the vast area they had controlled in northeastern Mal, and a stabilization mission continues amid sporadic attacks. Among survivors was Belmoktar, the Algerian extremist and trafficker who at one point was the southern chief of Al Qaeda in the Islamic Maghreb, roaming the Sahel region before he broke with the affiliate.
The claim of responsibility said the Bamako attack was also a response to the December killing of Ahmed el Tilemsi, a founding member of the militant Movement for Unity and Jihad in West Africa that fused with forces loyal to Belmoktar to form Mourabitoune.
Belmoktar, widely thought to have taken refuge in Libya, has a reputation as the most dangerous man in the Sahara. His loyalists led a brazen attack on a natural gas facility at Ain Amenas, Algeria, in January 2013, shortly after the French intervened in Mali. The attack killed scores of foreign and Algerian employees.