2017 terror forecast for US, Europe 'alarming,' says House report
NEWYou can now listen to Fox News articles!
The U.S. and European terror forecast for 2017 'looks alarming,' in part because of increased pressure on ISIS and other terror groups on their home turf, according to a monthly assessment by House lawmakers.
The House Homeland Security Committee's February "Terror Threat Snapshot" report cited two homegrown terror attacks in January and officials predicted efforts to crush foreign terror groups, while laudable, could spur more attacks to American soil.
"At this rate, the forecast for 2017 looks alarming," warns the report, citing an "unprecedented spike in the homegrown terror threat, primarily driven by the rise of ISIS."
Officials predicted necessary efforts to crush foreign terror groups could actually spur more attacks on Western soil. Coming attacks in the U.S. and Europe could be carried out by so-called lone wolves as well as homegrown terrorists who return from fighting in such places as Iraq, Syria and Somalia.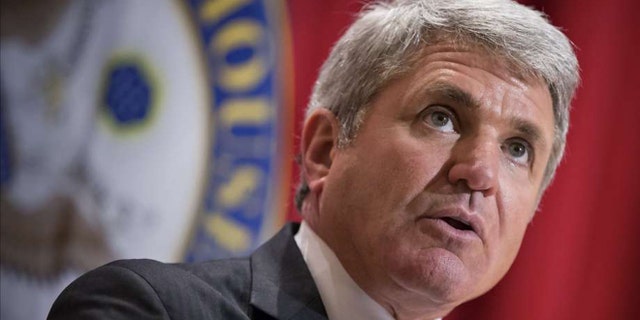 "I am very encouraged that the Trump administration is preparing to put greater pressure on jihadists in their safe havens throughout the world," House Homeland Security Committee Chairman Michael McCaul, R-Texas, said. "But as they do, we can expect to see militants returning to the West to build new networks and to plot more deadly operations."
The report, compiled by the committee's Republican majority staff, is based on information gleaned from media reports, publicly available government data and documents and nongovernmental assessments.
Since the beginning of 2016, there have been plots or attacks by 39 homegrown jihadists in 19 states -- Arizona, California, Colorado, Florida, Indiana, Kentucky, Maryland, Minnesota, Michigan, Missouri, North Carolina, New Jersey, New York, Ohio, Pennsylvania, Texas, Virginia, Washington, and Wisconsin, according to the report.
Two instances occurred on American soil last month: The attack at Fort Lauderdale-Hollywood International Airport carried out in the first week of 2017 by Esteban Santiago, who was reportedly radicalized by ISIS videos, and the Jan. 31 murder of a Denver Regional Transportation District contract security officer by a suspect carrying jihadist material in his backpack.
The report also cites numerous incidents in Europe, the Middle East and Africa.
Despite President Trump's vow to take a hardline against radical Islamic terrorism, the U.S. and West could continue to reap the bloody tide of what critics call lax counter-terrorism efforts in the past.
"Unfortunately, over the past eight years of the Obama administration, the ideological counter-measures were removed and, therefore, the level of radicalization peaked to the levels acknowledged in this report," Fox News contributor Walid Phares, who advised President Trump on foreign policy throughout the campaign, told Fox News. "More jihadis mean more potential attacks -- this is what we are facing now."
Trump has remained committed to his campaign promises of tightening homeland security, most recently with an executive order pausing immigration from seven predominantly Muslim countries. That order is currently suspended amid a legal challenge.
According to the report, although ISIS faces continued counterterrorism pressure in their "key safe havens," the group's external operations plotting appears "undiminished."
The report also noted counterterrorism efforts, including the elimination of key ISIS figure Abu Anas al-Iraqi, a member of ISIS chief Abu Bakr al-Baghdadi's inner circle, in a Jan. 8 raid in Syria.
It also notes the Jan. 10 State Department terrorist designation of British national Alexanda Amon Kotey, a member of ISIS' four-person execution cell dubbed "The Beatles."
Kotey, who remains at large and is believed to be in Syria, is accused of capturing and beheading nearly two dozen hostages, including American journalists James Foley and Steven Sotloff, and American aid worker Peter Kassig.
A State Department spokesperson told Fox News that naming Kotey as a Specifically Designated Global Terrorist (SDGT) notified the United States and international community that Kotey is "actively engaged in terrorism."
"The consequences of this designation includes a prohibition against U.S. persons from generally engaging in transactions or dealings with Kotey, and the freezing of all of Kotey's property and interests in property in the United States, or within the United States or the possession or control of U.S. persons," a State Department spokesperson told Fox News in an email.
According to the report, European nations are improving their counterterrorism reforms, but major security weaknesses continue to leave European countries more vulnerable to attack and put U.S. interests overseas at risk.