2 NYPD cops hailed as heroes after driving away from crowd with purported 'bomb' in van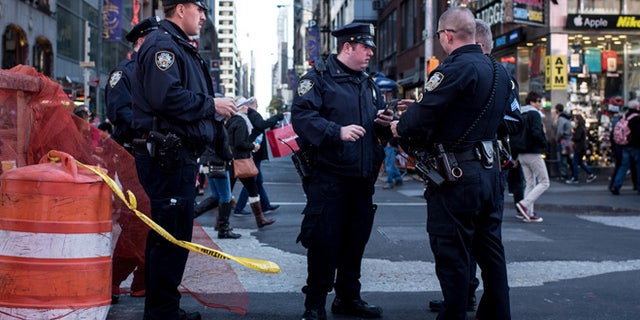 NEWYou can now listen to Fox News articles!
Two New York City police officers are being hailed as heroes after a mentally disturbed man threw a phony bomb into their van as they were patrolling Times Square Wednesday night. Thinking it was a real explosive device, the officers sped away from the crowded area in an effort to potentially save hundreds of innocent lives.
The man, 52-year-old cab driver Hector Meneses, was arrested after a tense standoff. He was taken away on a stretcher after police doused him with pepper spray and pulled him from his SUV.
"I want to die and I have a bomb strapped to my chest," Meneses reportedly told police.
The incident happened at around 11:30 p.m. and continued into the morning near Central Park as bomb squad special agents worked to rule out the presence of explosive material in the van.
The officers involved were Sgt. Hameed Armani and Officer Peter Cybulski.
"I was like, 'We're going to go, but I'm not going to have anybody else go with us'," Armani told the New York Daily News. "Put the lights on, put the car in drive, try to get as fast as possible away from Duffy Square."
NYPD Commissioner Bill Bratton said the officers were "heroes of the city."
"They put their own lives totally at risk to save the lives of potentially hundreds of tourists and other New Yorkers."
Once in a less densely populated area, the officers removed the believed bomb from their car and took cover. The fake device was made from a red candle and two LED-style garden lights wrapped in aluminum foil and white fabric.
According the Daily News, Cybulski said, 'Boss, this is bomb.' The light went off, started blinking," he said. "We both, as we were driving that 30 seconds or minute, we both said our prayers, we thought, 'This is it. I'm not gonna' make it, but I'm happy no one else is going to get hurt.'"
Armani added he would have done it again, despite the perceived danger.
Armani is a 10-year veteran of the department, and a Muslim who emigrated from Afghanistan with his daughter. Cybulski is a 3-year veteran.
Ninety minutes after Meneses threw the fake bomb, police surrounded his car in Columbus Circle where a standoff began.
Dressed oddly in a red construction helmet and a denim vest, the cabbie barricaded himself in his vehicle.
Cops sent in an Emergency Services robot for a better view of the man's SUV as police hoped to reach Meneses' mother and his wife, sources said.
The scuffle ended at around 8 a.m.
According to sources, Meneses is Colombian-born, has no prior psychiatric history and no arrest record, with the exception of several traffic violations.
Police officials said neighbors described him as quiet.
Lucia Amaral, 75, a longtime friend of Meneses, told the Daily News he was divorced from his wife, who lives in Massachusetts, and the two do not have children.