11-year-old daughter of high-ranking official in Colombia abducted and held for ransom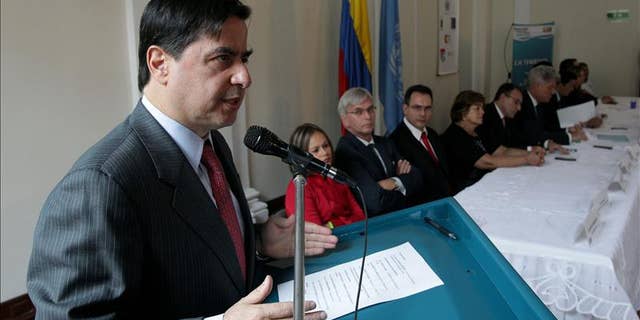 Colombia is in shock over the kidnapping of 11-year-old Daniela Mora, daughter of the director of the National Protection Unit, or UNP, Diego Fernando Mora.
On Thursday night and the early hours of Friday, the family received five telephone calls demanding 500 million pesos (roughly $190,000) in exchange for the girl, El Tiempo newspaper is reporting. Authorities are investigating whether the calls came from the abductors or from someone trying to take advantage of the situation.
President Juan Manuel Santos joined the voices condemning the abduction, which took place Thursday afternoon in Cucuta.
Santos said the government is doing everything in its power to recover the girl.
"We have spoken to Diego [Mora] three times. An hour ago I talked to him. We are doing everything possible. This should be kept within the framework of prudence," he added.
The president also said that "the desire of all Colombians is for the life of this child to be respected. It is a horrible thing that is not acceptable under any point of view. The government is acting and looking forward to early settlement."
The UNP, directed by the girl's father, is an agency of the Interior Ministry dedicated to providing security for high officials and threatened citizens like journalists, defenders of human rights and land claimants.
Daniela's father has headed the UNP since last January and, according to local media, had recently uncovered cases of corruption in the unit, such as the use of vehicles assigned for the protection of citizens to transport contraband gasoline from Venezuela.
The minister added that the operations rolled out by the authorities to find the minor are being done with "prudence and caution" because the priority is "to preserve Daniela's life and safety."
The chief of police, Gen. Rodolfo Palomino, said Friday that search operations are being handled by Gaula, the unit specialized in the fight against kidnapping and extortion.
"There's nothing that could be more condemned by everyone than the kidnapping of a minor," the police chief said, while asking the kidnappers to free the girl.
According to Palomino, the kidnappers "must be aware not only of the institutional reaction but also of the enormous social repudiation" that this abduction has inspired, and for which he also asked citizens to provide any information that might serve to free the girl.
EFE contributed to this report.