FIFA indictments cast doubt on Sepp Blatter's re-election, 2018 and 2022 World Cups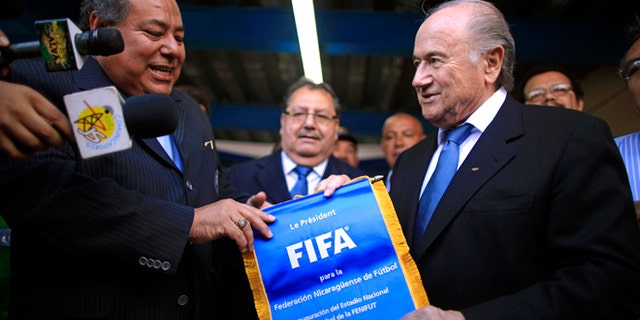 The U.S. federal indictment handed down Wednesday charging 14 people connected to the Fédération Internationale de Football Association (FIFA) with racketeering, wire fraud and money laundering has sent shock waves through one of the most insulated organizations in the world and stirred speculation that these charges could affect everything from where the next two World Cups are played to who will win the presidency of the sport's main governing body.
While current FIFA president – and likely to win his fifth term later this week – Sepp Blatter was not named in the indictment, the cloud of corruption has hung over his time in office. And some observers believe that if the investigation turns up new revelations that connect Blatter to the dirty dealing, it could force FIFA to do some drastic house cleaning.
"If enough information emerges to show that Sepp Blatter was involved in shady dealings, FIFA officials will have to take the steps to fix an organization that has been beholden to no one for a very long time," Brett Forrest, a senior writer for ESPN the Magazine and author "The Big Fix: The Hunt for the Match-Fixers Bringing Down Soccer," told Fox News Latino.
FIFA has stated that Friday's presidential election would go ahead as planned despite the investigation, but the Union of European Football Associations (UEFA) called for the postponement of the election, threatening to boycott the body's congress later this week.
U.S. Soccer released a statement Wednesday afternoon saying that while "there is no higher priority, and nothing more important, than protecting the integrity of our game," they would not "comment further on this matter at this time."
Among those charged in the federal indictment are Jeffrey Webb and Jack Warner – the current and former presidents of CONCACAF, the confederation that oversees soccer in North America and the Caribbean, which has its headquarters in Miami Beach – along with Charles Blazer, the long-serving former general secretary of CONCACAF and former U.S. representative on the FIFA executive committee.
"The indictment alleges corruption that is rampant, systemic and deep-rooted both abroad and here in the United States," said U.S. Attorney General Loretta Lynch. "It spans at least two generations of soccer officials who, as alleged, have abused their positions of trust to acquire millions of dollars in bribes and kickbacks."
Some observers also speculate that the timing of the Justice Department's indictments so close to the elections was meant to influence Blatter's chances of winning his fifth term.
"By all indications, Sepp was cruising to reelection yesterday," Ted Westervelt, the founder of soccerreform.us, told FNL. "It seems pretty clear that this was timed to influence FIFA elections."
Along with the FIFA elections, some have ventured that the location of the next two World Cups – Russia in 2018 and Qatar in 2022 – could be up in jeopardy, especially if it is revealed that FIFA officials took bribes during the bid process.
"We're dealing with a FIFA that has been beholden to no one and that has been the problem for a long time," Forrest said.
FIFA also ruled out a re-vote of those World Cup bids, but some say that that could change if there was a major overhaul of the organization's leadership in the wake of the investigation. Changing a World Cup locale is not entirely unprecedented as the 1986 World Cup was switched from the original bid-winner, Colombia, to Mexico after officials realized that the South American country wouldn't be able to afford the infrastructure improvements FIFA had requested.
Both Russia and Qatar have denied any wrongdoing in the bid process.
The FBI and U.S. Justice Department's role in the FIFA corruption investigation is significant, observers say, because it highlights how serious the allegations against those charged are that the FBI and became involved.
"This is not a case about sports," Forrest said. "International soccer is a business, and we're not talking about a sport. We're talking about a business allegedly committing a crime."