Nebraska farmer who died trying to rescue a stranger from floodwaters is hailed as a hero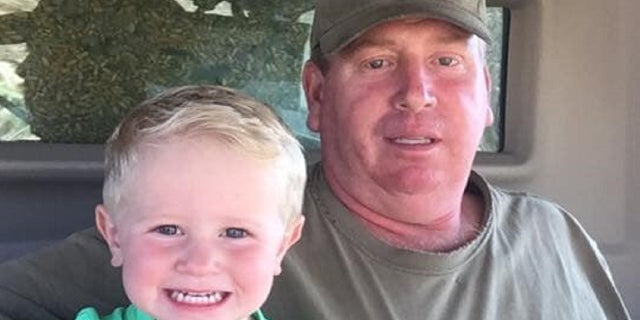 James Wilke was one of the best men she has ever known, family friend Jodi L. Hefti wrote on Facebook on Friday.
"Not all HEROES wear capes or uniforms," Hefti wrote. "I know a TRUE HERO who wore a T-shirt, blue jeans, work boots and drove a John Deer Tractor."
Wilke, 50, a Nebraska farmer, was killed Thursday while trying to rescue a stranger from floodwaters that have devastated eastern Nebraska, western Iowa and other parts of the Midwest this week.
7 FIRST RESPONDERS PULLED FROM NEBRASKA'S DEADLY FLOODWATERS IN DRAMATIC HELICOPTER RESCUE: REPORTS
On Thursday, Wilke, of Columbus, Neb., received a phone call asking him to assist emergency responders in rescuing a motorist trapped by flooding, Hefti wrote. So Wilke climbed on his tractor and headed down the road.
"He was always the first to go help somebody," his cousin, Paul Wilke, told the Omaha World-Herald. "He was a person who wouldn't just talk about making things better. He would do it."
"He was always the first to go help somebody. He was a person who wouldn't just talk about making things better. He would do it."
According to Hefti, the emergency responders led Wilke over a bridge on Monastery Road, but the bridge gave out. Wilke and his tractor went into the water.
Wilke's body was later recovered along the creek bed close to their home, Hefti wrote.
"Those who know James know it was his way of telling his wife, family and friends goodbye and that he is 'home,'" Hefti said.
'EPIC' STORM BRINGS BLIZZARD, RAIN, TORNADO THREAT TO MID-US
Wilke's death is the only one attributed to the flooding thus far, Omaha's KMTV-TV reported.
The historic flooding, which has followed heavy rains and melting snow in Nebraska, prompted Gov. Pete Ricketts to declare a state of emergency Tuesday. The move will assist the state in accessing relief funds and other resources.
"This is probably the most widespread flooding damage we've had in the last half-century," Ricketts said at a news conference Friday.
"This is probably the most widespread flooding damage we've had in the last half-century."
On Friday, President Trump tweeted that he had spoken with Gov. Ricketts.
"The people of Nebraska & across the Midwest, especially the Farmers & Ranchers, are feeling the impacts from severe weather," the president wrote. "The first responders & emergency response teams have done a great job dealing w/ record flooding, high winds, & road closures."
Ricketts surveyed the flooding Friday, sharing photos of the damage on social media.
The governor also directed the Nebraska State Patrol to temporarily waive the length and weight requirements for trucks traveling in and through Nebraska in support of response efforts to the severe flooding, according to a news release from Ricketts' office.
"This will help move materials more efficiently around the state as we work together to respond to the impacts of the flooding and severe weather," Ricketts said in the release.
'Unusual event' at nuclear plant
The swollen Missouri River also threatened the Cooper nuclear power plant in southeastern Nebraska. Declaring the flooding an "unusual event" on Friday, the Nebraska Public Power District said it was likely that the plant, about 59 miles south of Omaha, would be shut down early Saturday.
Still, officials were confident that the flooding around the plant presented no danger to the public, power district spokesman Mark Becker said.
A "Notification of Unusual Event" is the lowest emergency classification recognized by the Nuclear Regulatory Commission, Omaha's KIOS-FM radio reported.
In addition to Nebraska and Iowa, severe flooding also affected South Dakota and Minnesota.
The U.S. Coast Guard shut down all traffic on the Missouri River from about 50 miles south of Omaha, Neb., downstream to St. Joseph, Mo., on Friday, a stretch of about 70 miles.
Officials in eastern Nebraska said more than 2,600 people living along the Missouri, Platte and Elkhorn rivers there had been urged to evacuate, as waters breached levees in several rural spots.
Rising waters on the Missouri River also led Iowa officials on Friday to shut down much of Interstate 29 from the Missouri state line north about 85 miles to about Missouri Valley, Iowa.
CLICK HERE TO GET THE FOX NEWS APP
The closure was reminiscent of historic flooding along the river in 2011 that saw segments of the interstate in western Iowa washed away. Officials on Friday said the river is expected to crest well below what was seen in 2011.
The Associated Press contributed to this report.