Yo quiero Meth? Drug lab allegedly found inside Iowa Taco Bell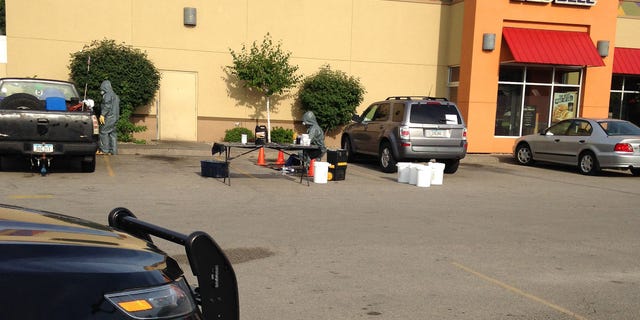 NEWYou can now listen to Fox News articles!
The remnants of a methamphetamine lab were discovered inside an Iowa Taco Bell early Tuesday, leading to the arrest of two men, including an employee, authorities said.
According to The Gazette of Cedar Rapids, police received a suspicious person report Tuesday at 4:42 a.m. Public safety spokesman Greg Buelow said officers arrived at the Cedar Rapids location and found two men outside. Police called the restaurant manager, who asked if they could go inside and check on the restaurant, Buelow told the paper. When officers entered, they found evidence of a scuttled meth lab, although it is not clear if meth was actually cooked in the restaurant.
The men were taken to be questioned at a police station while officers in hazmat suits roped off the restaurant to examine the materials outside.
Taco Bell's corporate offices released a statement confirming some details of the incident.
"We understand that two people, one an employee, entered our franchisee's restaurant illegally, allegedly possessing suspicious items," read the statement. "Both we and our franchisee find this completely unacceptable. Our franchisee has been working with Cedar Rapids Police to this isolated incident."
The company also stated that the employee has been fired and could face criminal charges.
Click to read more from The Gazette.