Yes to Yogi: Online petition for Berra Congressional Medal of Freedom reaches milestone
NEWYou can now listen to Fox News articles!
An online petition to get Yogi Berra the Congressional Medal of Freedom passed a major milestone Monday night, achieving the 100,000 signatures required to force a decision by the White House with fewer than two hours to spare.
Lindsay Berra, the granddaughter of the beloved baseball Hall of Famer, confirmed the campaign's success with this tweet at around 10:35 p.m. ET.
Shortly after midnight Tuesday, the petition had garnered 106,474 signatures, well over the required threshold.
The 90-year-old Berra's supporters believe his military service, baseball greatness and status as a cultural icon merit the award.
"Yogi Berra should be awarded the Presidential Medal of Freedom," reads the petition. "A man of unimpeachable integrity and respect, he befriended the first black and Latino baseball players in Major League Baseball."
The onetime New York Yankee catcher, as famous for his malapropisms as his diamond exploits, was a young Navy sailor on June 6, 1944 when the Normandy Invasion kicked off with D-Day. Berra had just turned 19, and had no way of knowing he would survive, go on to win three Most Valuable Player awards and a record 13 world championships in a storied career as a player, coach and manager. A Navy gunner, Berra protected wave after wave of sailors and soldiers as they stormed the cliffs and made their way to the German bunkers high above.
"You saw a lot of horrors," Berra told The Associated Press last year. "I was fortunate. It was amazing going in, all the guys over there."
Lindsay Berra told FoxNews.com there's even more to the legend than most know.
"Everybody knows what my Grandpa did on the baseball field and some even know about his time on the battlefield," she said. "I don't think they know a ton about all the humanitarian work he has done.
"He's been an advocate for education," Berra added. "He was one of the first players to embrace players across racial lines. He's really used his fame to embrace people. He helped to push the civil rights movement into the forefront."
Berra also started a museum and learning center on the campus of Montclair State University in his longtime hometown of Montclair, N.J. The center serves approximately 20,000 students annually with "character education programs" that teach what Berra demonstrated throughout his career—the values of respect, sportsmanship and inclusion.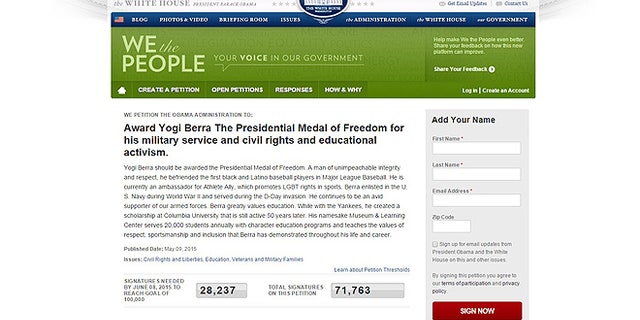 Lindsay Berra says that her grandfather is thrilled to be considered for the medal.
"He's excited about the possibility of getting the medal," she said. "But he didn't understand the online petition."
He is also an ambassador for Athlete Ally, an organization that promotes LGBT rights in sports.
Berra's former team even joined the fray, campaigning on social media for fans to sign the petition before time runs out.
If Berra were granted the Congressional Medal of Freedom, the award would be another feather in his baseball cap. His list of accomplishments as a baseball player alone is staggering.
Regarded as one of the best catchers in the history of baseball, Berra was elected to the Hall of Fame in 1972. He was an All-Star for 15 of his 19 seasons as a player, between 1946 to 1965. He is also one of only four players to be named MVP of the American League three times.
Berra, who managed both the Yankees and the New York Mets, is one of seven managers to lead teams to a World Series in both the National and American Leagues.