Yeah baby! Georgia newborns receive college funds after being born on tax day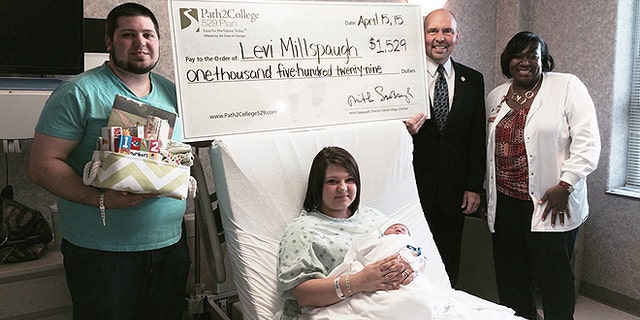 Their parents got brand new deductions, and two baby boys born in Georgia on tax day already have college savings courtesy of the Peach State.
The two bundles of joy - among the first in the state to arrive on April 15 - received a nice kick start to their college savings-- $1,529, which was put into a state-run 529 savings plans for each of them. The accounts, which remain tax-free as long as the proceeds are used for education, were set up to promote college saving through Georgia's "The Path2College 529 Plan."
"We were 100 percent surprised."
"How often do you wake up and find your baby has a college savings before he's even 10 hours old?" Aaron Millspaugh, whose son Levi Jarrett was born at Memorial University Medical Center in Savannah early Wednesday..
"We were 100 percent surprised," Millspaugh told FoxNews.com. "They came in to the room around 8:30 and told us the news. We had no idea. We thought we would just have the baby and head home to start our family."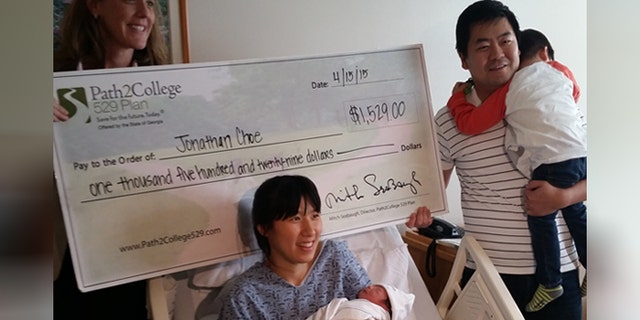 For the past five years, the state has held the contest at Northside Hospital in Atlanta, awarding the sum to the first baby to arrive on tax day. This was the first year the contest was also held at the Savannah hospital.
"There is no better day than today to start saving for college," Mitch Seabaugh, executive director of the Path2College 529 Plan, said in a statement released by Memorial hospital. "And, while it's better to start early and contribute over time, no matter how old a child is—it's never too late to save."
Officials at Memorial Hospital say they are honored to help award the prize this year.
"This is a great way to set our 'Tax Day Baby' on the road to educational success," added Rosalind Jackson, director of Women's Services at Memorial Hospital. "We try to make every birth experience at Memorial a positive one and this partnership with Path2College makes it even more exciting for this special family."
The other recipient was the newborn child of David Choe and his wife Jennifer, who gave birth to little Jonathan early Wednesday morning at Atlanta's Northside Hospital. They were just as elated when they found out that their son was awarded with the fund.
"It was a total surprise," David told FoxNews.com. "Education has always been a top priority for our children."
David added that he and his wife were informed about six hours after Jonathan's birth and that their newborn is well on his way to a good education when he gets older.
"This is a good head start," he said. "It will definitely make us more proactive in saving for his education."