WWII vet dances to celebrate Christmas and his 95th birthday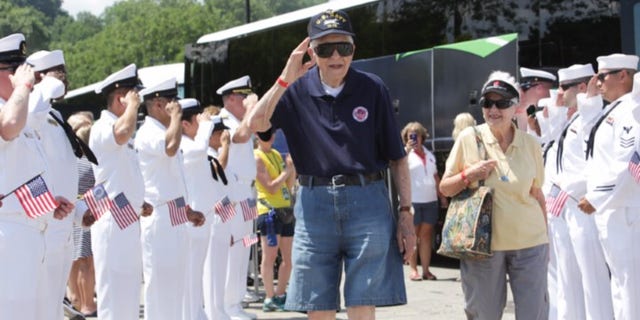 World War II veteran Chuck Franzke is back at it.
In a video that went viral just ahead of his 94th birthday last year, Franzke was seen dancing to Burl Ives' rendition of the classic "Holly Jolly Christmas." This year, the former Navy pilot is turning another year older and is dancing once again -- this time to Frank Sinatra's version of "Jingle Bells."
Franzke officially turns 95 on Dec. 22.
"I liked to do the Jitterbug back in the 40s, but I haven't done a lot of dancing since. I like to move around to music, it's almost like I'm still young but then look in the mirror and I ain't," the Waukesha, Wis. resident told Fox News on Friday.
When asked how he feels about turning 95, Franzke joked that it's "better than the alternative."
Franzke served as a U.S. Navy pilot from 1943-1945. He flew Avenger torpedo bombers off of the USS Saginaw Bay in the Pacific Theater, he said.
Now, he spends a great deal of time volunteering for Honor Flight, an organization that flies WWII, Korean War and Vietnam War veterans to see their memorials in Washington, D.C. at no cost to them.
More specifically, Franzke said he serves as an Honor Flight "ambassador," traveling to different schools around the state to tell his story and collect money for the organization.
Franzke, who is seen wearing red Honor Flight "Got Freedom?" T-shirt in the video, said his favorite Honor Flight T-shirt has the saying "everyday is a bonus" on the back, a quote attributed to Joe Denler, a Holocaust survivor and friend of Franzke that he met through the organization.
Aside from volunteering, he and and his wife of nearly 75 years, Bev, enjoy taking walks at a lake a few miles from their home and visiting a local coffee shop. And, in addition to going to the gym four days a week and "driving all over town," Franzke said he's always "busy around the home," adding that he had just finished washing the dishes before taking yet another phone call regarding his holiday-inspired dance.
Franzke said that some of his favorite memories involve his wife -- spanning from their first date in 1939 to asking her to marry him on Christmas Eve in 1944.
"I decided I was going to marry her on the first date I ever took her on," he said, adding that the two started "going steady" during his senior year of high school and Bev's junior year.
"It's been 79 years and I still like her," he said. The couple has two children, a son and a daughter, four grandchildren and three great grandchildren.