Wounded police dog found alive after shooting that killed Arkansas deputy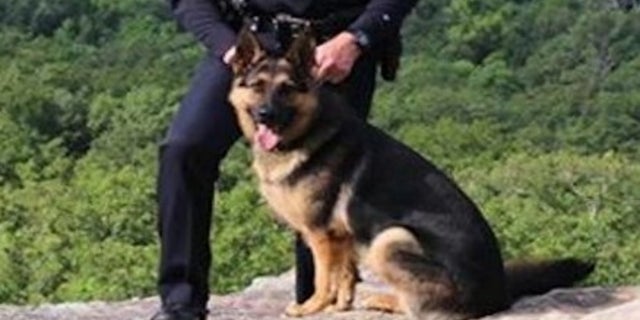 A police dog that ran away after being wounded during a shooting that killed an Arkansas deputy was found alive and was recovering on Saturday, the Greenwood Police Department announced.
Police spokeswoman Kristin Faulkenberry told reporters the dog, named Kina, "was up and walking" when searchers found the animal Friday morning near where the shooting unfolded near Hackett, about 115 miles west of Little Rock.
The dog was shot and ran into a wooded area Wednesday when a man identified as Billy Monroe Jones opened fire on officers, killing Sebastian County Deputy Bill Cooper and wounding Hackett Police Chief Darrell Spells.
Police said the dog had two gunshot wounds and was taken to a veterinarian, but appeared to be recovering.
Jones eventually surrendered and is now in custody. The suspect's father had called authorities after he said the man pulled a gun on him.
Police also said Jones wanted to cause a "ruckus" ahead of a court hearing. Jones was being held at the Crawford County Detention Center.
A funeral for the deputy will be held Tuesday at Community Bible Church in Fort Smith, the Sebastian County Sheriff's Office told reporters.
Gov. Asa Hutchinson on Thursday ordered state flags lowered in honor of Cooper.
The Associated Press contributed to this report.