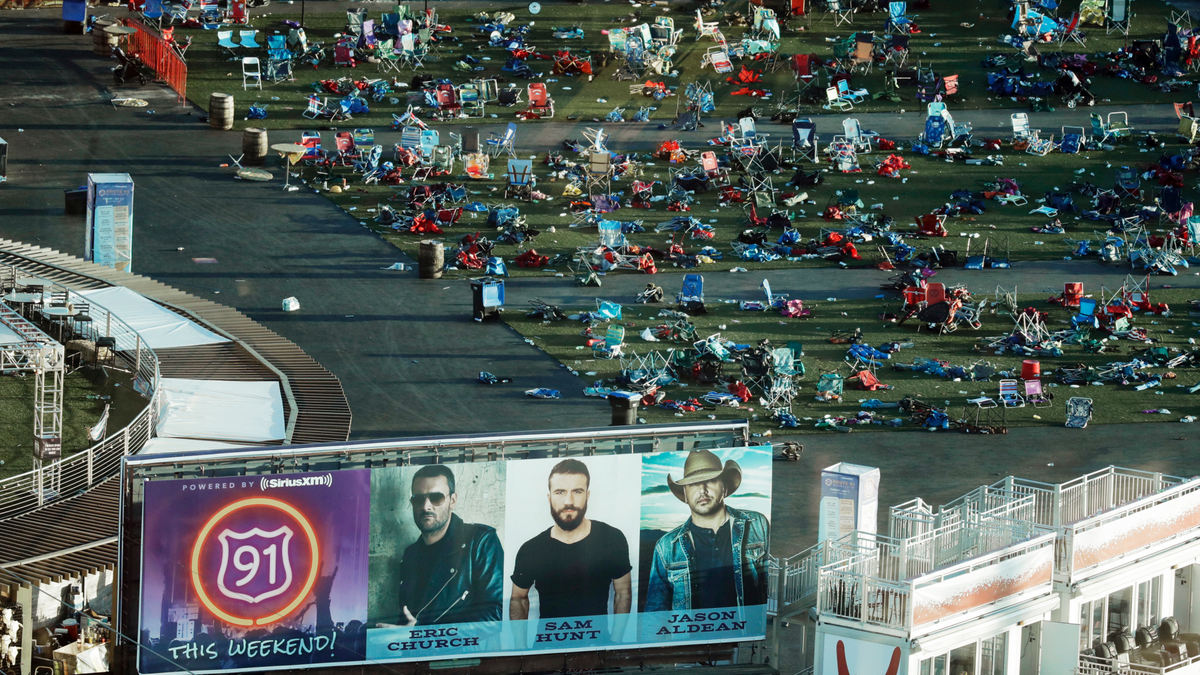 LAS VEGAS – The corporate owner of the Las Vegas hotel where a gunman unleashed the worst mass shooting in modern U.S. history is giving a free hotel room at one of its properties to a hotel security guard who is expected to be a key witness in lawsuits against the company, officials said Friday.
MGM Resorts International is concerned about the safety and well-being of Jesus Campos, 25, an employee on paid leave while he recovers from a leg wound received in a hotel hallway during the Oct. 1 massacre, company executive Alan Feldman said.
Fifty-eight people were killed at nearly 550 were injured when authorities say Stephen Paddock rained gunfire from the windows of a 32nd-floor hotel suite into a crowd of country music concertgoers.
A Houston-based lawyer suing MGM Resorts and other defendants on behalf of a California woman who was wounded in the shooting called the arrangement odd and said he believes the hotel company is trying to control Campos.
"I really think it's about not allowing reporters and lawyers and investigators to get to him," attorney Mo Aziz told The Associated Press. "I think they want to make sure he doesn't make any statement that could really become problematic. And the reason they put him up on their property is so that they'll know at all times where he is and who's talking with him."
Feldman said "a very unusual circumstance" arose when police and a union official identified Campos as a hero whose arrival in a hotel hallway unwittingly stopped the shooting.
"When his name became public, Jesus was inundated with media coming to his home," Feldman said. "Out of concern for our employee's well-being and privacy, we provided a room for him."
Campos' lawyer, Frank Flansburg III, said Campos and his family experienced "extensive and intrusive media attention."
Police said the wounded Campos remained at the Mandalay Bay in the immediate minutes after the shooting, and provided his account of what happened to investigators while he was being treated at a hospital.
Campos made no public appearances after his hospital release, and at the last minute canceled a scheduled live interview Oct. 5 with Fox TV's Sean Hannity and taped interviews with other networks.
The following week, Campos and Stephen Schuck, a hotel engineer who escaped injury when bullets whizzed down the hallway, taped an interview with talk show host Ellen DeGeneres. It aired Oct. 11.
Flansburg, who said Campos is not agreeing to more interviews, confirmed that the weekend after the shooting, Campos traveled on a pre-planned trip to visit family members in Mexico.
Campos is a U.S. citizen who was born in the Southern California town of Paramount, his lawyer said.
MGM Resorts has 11 hotel properties in the Las Vegas area. Flansburg declined to say where Campos has been staying.
He said Campos "accepted and appreciated" the MGM Resorts offer of lodging for his "privacy and protection."