World War II-era plane crashes in wooded area in NY, killing pilot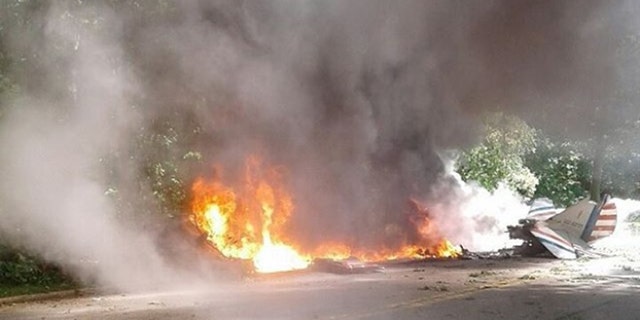 A small vintage airplane that was part of a GEICO stunt team crashed in a wooded residential area on Long Island, killing its pilot, Suffolk County police said Wednesday.
The pilot of the World War II-era GEICO Skytypers plane was pronounced dead at the scene shortly after the plane crashed and burned on a street lined on one side with houses.
"It was fortunate that the plane crashed in the wooded area and not the residential part," Suffolk police Chief of Department Stuart Cameron told Newsday.
The pilot was the sole occupant on the plane, and no one on the ground was injured, according to police. The Federal Aviation Administration said the crash involved an SNJ-2 aircraft, a World War II-era plane.
A spokeswoman for Skytypers identified the pilot as Ken Johansen, a U.S. Naval Academy graduate, naval aviator and professional airline pilot. He was a husband and father of two children. The plane had departed nearby Republic Airport before crashing.
"A careful and thorough investigation is already under way," Skytypers said in statement. "We are working with local law enforcement, the Federal Aviation Administration, and the National Transportation Safety Board. Our thoughts are with Ken and his family."
Johansen first flew with the Skytypers at the age of 8, according to his bio posted on the stunt team's website. It said he "caught the aviation bug early in his life" from his Skytyping instructor pilot father.
The Skytypers performed at last weekend's Bethpage Air Show at Jones Beach.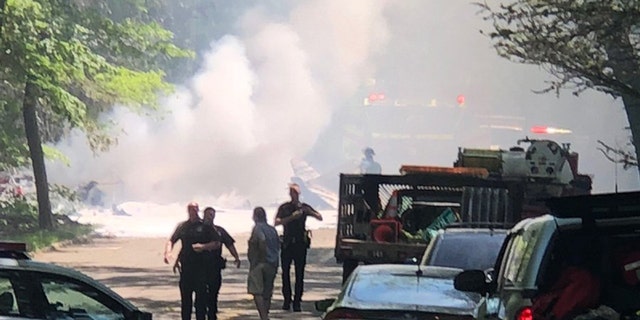 Photos of the wreckage show thick black smoke and raging orange flames.
College student Lauren Peller, 19, was in her home with her mother when the plane went down across the street next to woods.
"We heard a loud noise, almost like a tree fell on the house, and we ran down the stairs and there was smoke and the plane was on fire," said Peller, adding that her mother then called 911.
"It's extremely lucky that nothing was hit," said Melville First Assistant Fire Chief David Kaplan. "Houses were approximately 200 feet away."
Accountant Lou Scaglione told Newsday he was eating lunch when he noticed five World War II planes. Then he said there were only four planes and he saw smoke over the trees.
"It's heartbreaking," Scaglione said. "These planes are part of Long Island. It's a shame that one of them is down over there."