Woman killed after alligator dragged her into Hilton Head lagoon was trying to protect dog: investigators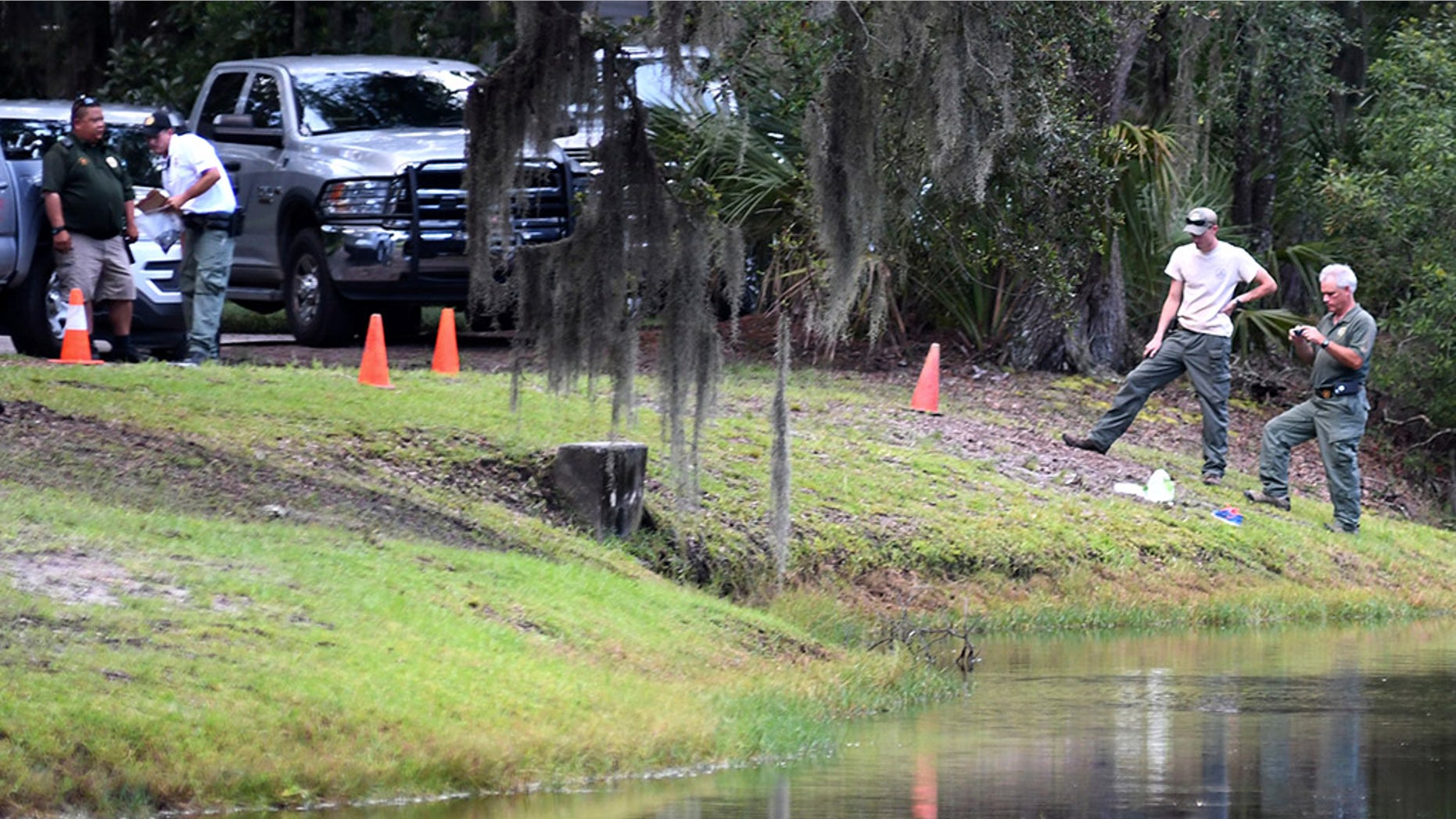 A woman who was killed after an alligator dragged her into a golf course lagoon in South Carolina was trying to protect her pet border collie during their daily walk, investigators revealed Monday, identifying her as 45-year-old Cassandra Cline.
The lagoon was across the street from her vacation home in a private resort on Hilton Head Island.
The Beaufort County Sheriff's Office received a call around 9:30 a.m. about a possible alligator attack near a lagoon in Sea Pines Plantation, the resort community where Cline was vacationing, as Fox News previously reported. Officers arrived and discovered the woman's body inside the lagoon.
According to witnesses, Cline was walking her dog when an alligator, about 8 feet long, "attacked and pulled" her into the water. Security staff also viewed surveillance video of the attack, South Carolina Department of Natural Resources spokesman Capt. Robert McCullough told The Post and Courier.
"She was walking the dog near the lagoon and the alligator came out of the water and tried to get the dog," David Lucas, a spokesman for the South Carolina Department of Natural Resources, said. "The lady tried to rescue the dog and a maintenance worker ran over to help."
Both were trying to save the dog, but the alligator dragged the woman into the water, he said.
The alligator later was found and killed, Lucas said.
It's common practice to kill an alligator when one gets reported for an attack or other aggressive behavior, said McCullough. He said it will take some time before authorities determine if the alligator shot Monday is the one that killed Cline.
A neighbor was caring for the dog Monday afternoon, sitting on Cline's front porch. She declined to comment other than to say the dog was unharmed.
Thomas DiMaio, who rents a house across the street from the scene of the attack, said he heard shrieks while he was in the shower but thought they were a bird. He went outside a half hour later to find a crowd gathering beside the road, where a bag of dog treats Cline had been carrying, one of her shoes and her hat dotted a trail leading to the water.
"It's really sad," said DiMaio, who often chatted with Cline as she walked her dog past the vacation home he's rented for several weeks in the Sea Pines Resort. "She didn't have any children. The dog was her child, I guess."
He said Cline and her husband divided their time between Hilton Head and their home near Syracuse, New York. DiMaio said he would see Cline and her dog walking two or three times daily, and the woman often carried a bag of treats she would feed to her pet.
"She was a very pleasant woman," DiMaio said. "Very friendly."
Alligator attacks on humans are extremely rare, Lucas said.
Since 1976, there have only been about 20 attacks on people in the state, he said. Until 2016, none of those attacks had been fatal. In 2016, a 90-year-old woman wandered away from a Charleston assisted living facility and was found dead in a pond.
McCullough said Cline was the second person to die from an alligator attack in South Carolina history.
Residents of this resort island off the coast near the South Carolina-Georgia line say alligators are a fairly common sight — especially in the water hazards dotting Hilton Head's golf courses.
"We're cautious, but not necessarily scared," said Roy Sokotowski, who has owned a retirement home at Sea Pines for seven years. "Everybody knows if you have a small dog, you don't let them get near the water. I don't get near the water without looking for their eyeballs."
Barbara Brigham walks her dog, Pippen, along the same golf course — always making sure it's on a leash. She's heard of other people's dogs going missing on the island, but never of an alligator attacking a person.
More than a year ago, Brigham said, she was out walking when a gator emerged from a pond in front of her.
"It looked at me and I looked at it and we both ran in opposite directions," she said.
Sea Pines Living posted on its Facebook page to confirm the woman's death.
"Sea Pines CSA is actively working with local authorities to ensure necessary access to the site while the investigation is underway. At this time, little information is available about the individual or incident. We are extremely saddened by this news and will share information with the community as it is made available," the post read.
The resort is in the southern third of Hilton Head Island, located along 5,000 oceanfront acres, according to its website.
The Associated Press contributed to this report.