Woman dies, 9 kids and adult injured when van crashes through crossing gate into train in Ohio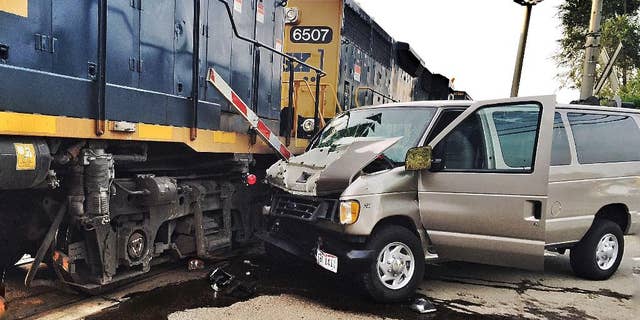 NEWYou can now listen to Fox News articles!
MIDDLETOWN, Ohio – Authorities say a van carrying vacation Bible school students crashed through a crossing gate into the side of a freight train at an Ohio rail crossing, killing a passenger and injuring nine children and the driver.
The State Highway Patrol says the gates were down and the warning lights were activated at the crossing in Middletown when the van approached it Tuesday evening. Investigators aren't sure why the driver crashed into the train.
The van from the Church at Mayfield was being used to transport students for a vacation Bible school.
The patrol says the front-seat passenger, 62-year-old Jan Martin, died at a hospital. Police say nine children, ranging from 7 to 10 years old, and the 62-year-old driver suffered injuries that aren't life-threatening. They were taken to hospitals.