Woman Demands Government Find Body of Husband Shot on Mexican Border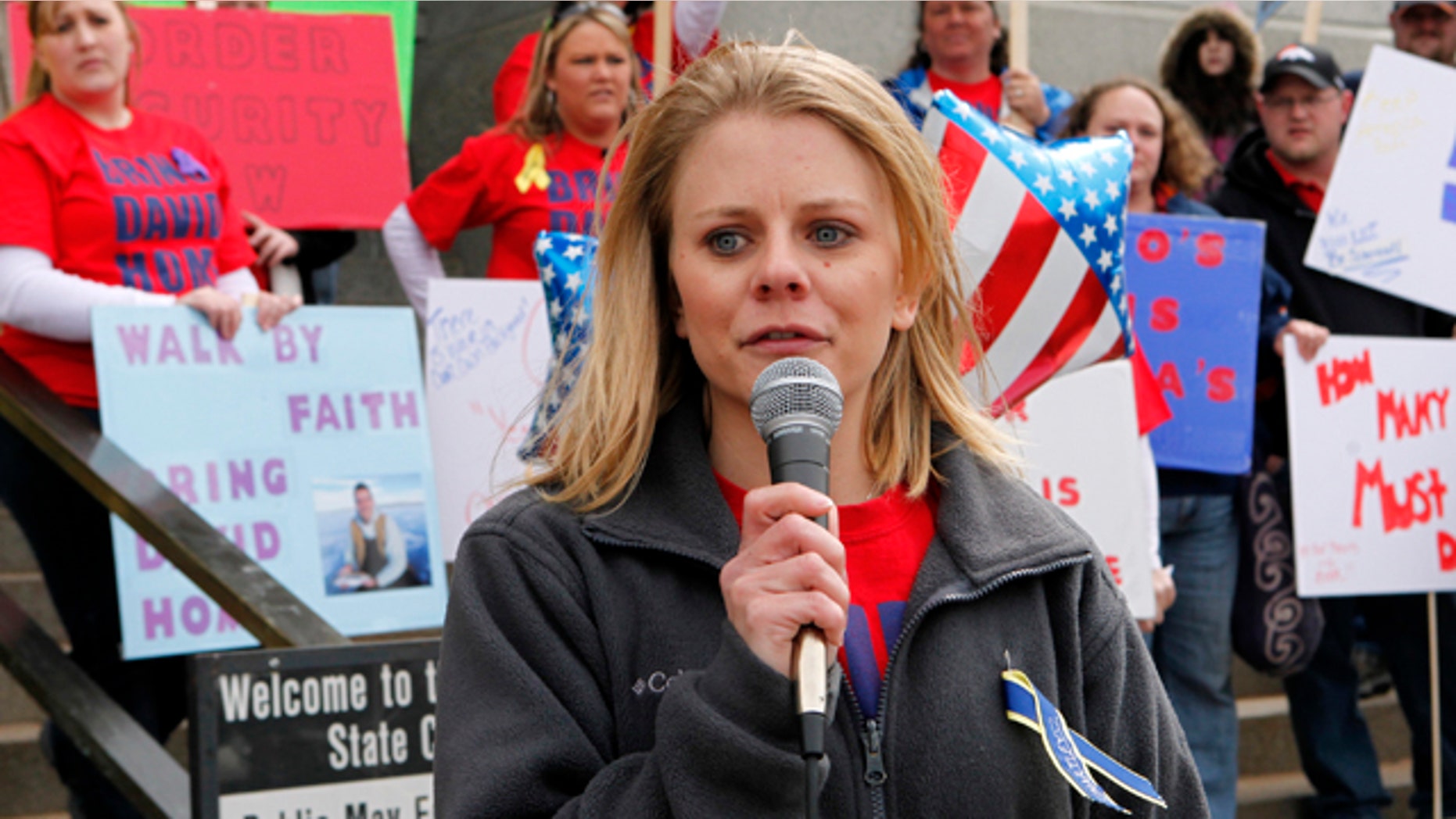 DENVER -- An American woman is demanding that the U.S. government do more to find the body of her husband, six months after he was presumably gunned down on a lake along Texas' border with Mexico.
Tiffany Hartley, who lives east of Greeley, Colorado, said nothing has been done since Mexican officials called off a search for David Hartley on Oct. 14. She held a rally with family and supporters at the Colorado Capitol on Wednesday asking state officials to pressure the Obama administration to do more to find her husband and to secure the border.
Tiffany Hartley told authorities she and her husband were using personal watercraft on Falcon Lake when they were approached Sept. 30 by Mexican pirates who shot and killed her husband. The couple were returning to Texas after photographing a historic church on the Mexican side of the lake, Hartley said.
"We don't want to leave him in the hands of the enemy," she told The Associated Press, referring to suspected pirates or drug smugglers known to roam the lake about 45 miles northwest of McAllen, Texas. "If we get his body back, we can at last honor him the way he would want to be honored, at least by his family."
No death certificate has been issued, and Mexican officials have told Hartley the case remains open.
The Mexican federal attorney general's office could not immediately provide an update on the status of the case and Zapata County, Texas, Sheriff Sigi Gonzalez, who led the investigation on the U.S. side, did not return telephone messages from the AP.
David Hartley's case is not listed on U.S. State Department records of American citizens killed in Mexico, and State Department officials did not immediately respond to inquiries about the case. In cases such as Hartley's, it's up to families or acquaintances to file a report with local Mexican officials, which Hartley did through the Mexican consulate's office in October.
State Department travel advisories warn visitors to be aware of drug violence in several areas of Mexico. In September, the department ordered minor dependents of U.S. consulate employees out of the industrial city of Monterrey following a shooting outside a school and a rise in kidnappings.
Some 311 U.S. citizens were homicide victims in Mexico between January 2006 and December 2010, with 106 killed last year, according to a database of unnatural deaths of U.S. citizens abroad that are reported to the State Department.
Department spokeswoman Tanya Powell said U.S. authorities don't count numbers of missing Americans abroad in part because the more than 200,000 inquiries the department receives each year are quickly resolved.
Falcon Lake, a dammed section of the Rio Grande, has been plagued by pirates who rob boaters and fishermen in Mexican waters, and Texas officials warn recreationists to avoid the lake. Hartley's death would be the first confirmed killing there.
Violence last fall spread from Ciudad Juarez, an epicenter of the drug war across the border from El Paso, Texas, to areas of Tamaulipas where Hartley disappeared. Two drug gangs, the Gulf Cartel and the Zetas, have battled for supremacy there.
------
Associated Press writer Olga R. Rodriguez contributed to this report from Mexico City.