Woman cited for graffiti on rocks at Hawaiian mountain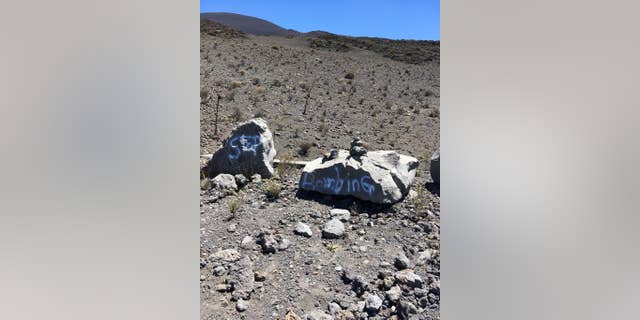 HONOLULU – Authorities have found the woman suspected of painting graffiti on a mountain held sacred by Native Hawaiians.
The state Department of Land and Natural Resources said Tuesday the Native Hawaiian community helped officers contact with the woman, who was issued a citation.
Graffiti was found on rocks last month in the Mauna Kea Ice Age Natural Reserve Area. There was also graffiti on a portable restroom and other areas of Mauna Kea.
Protesters have been fighting to stop a giant telescope from being built on the mountain. Protest leaders condemned the vandalism, saying it amounts to desecration.
The state released a photo showing rocks painted with the words "stop" and "bombing."
Protest leaders say that likely refers to efforts to stop the military from using Pohakuloa Training Area.