Woman arrested in brutal beating of grandfather who was told to 'go back to your country,' police say
A woman was arrested Tuesday in connection with the brutal assault of a 92-year-old grandfather who was beaten in the face with a brick and allegedly told to "go back to your country" in southern California on July 4, police said Wednesday.
Laquisha Jones, 30, was arrested and charged with assault with a deadly weapon. Jones is accused of attacking Rodolfo Rodriguez, leaving him with two broken ribs, a broken cheekbone and bruising throughout his body.
Los Angeles County Sheriff's Department said the weapon -- a brick -- has not been located and officials are determining if there are other suspects involved.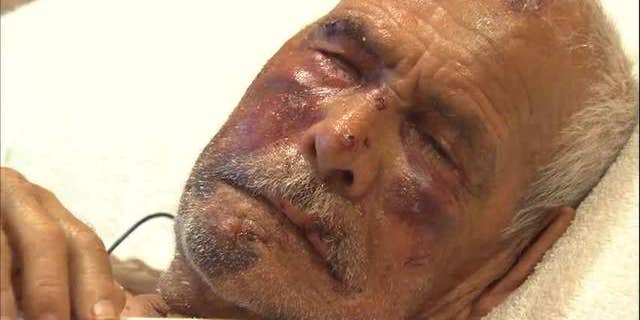 Rodriguez was visiting Los Angeles, Calif. from Mexico when he accidentally bumped into a woman's child while walking down the street, Rodriguez's grandson, Erik Mendoza, told FOX11.
"And when he turned his back they just tossed him on the floor and she started hitting him, and then she grabbed a brick and started hitting him with the brick, and then out of nowhere he saw three to four other guys just come rushing and just start stomping on him," Mendoza recalled his grandfather telling him.
GRANDFATHER, 92, BEATEN WITH BRICK AND TOLD TO 'GO BACK TO YOUR COUNTRY,' REPORTS SAY
A witness began recording the incident involving Rodriguez and a woman and four men. She intervened in an attempt to stop the attack.
A woman told KCBS a witness said the attackers also began yelling racial slurs.
"[They said], 'Go back to your country, why are you here?' Bad things," she said, quoting the witness.
Rodriguez was taken to the hospital, but has since returned home as he recovers with his family by his side.
Police said Wednesday the motive behind the attack has not yet been determined.
Jones is being held on $200,000 bail.