Woman arrested after spitting in face of Houston police chief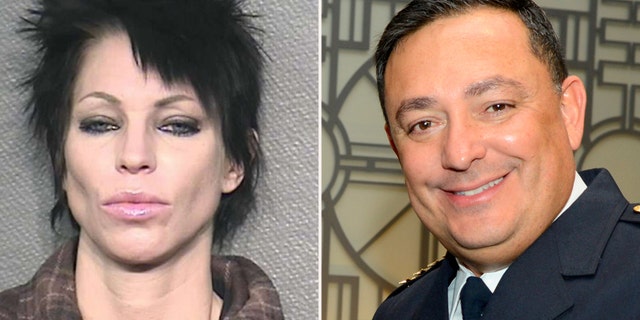 A woman was arrested after spitting in the face of Houston's police chief when he tried to arrest her for allegedly stealing items from a Walgreen's on Saturday, officials said.
Houston Police Chief Art Acevedo was off-duty and shopping when he saw Danielle Paris, 40, taking items from the drugstore and harassing employees outside.
Paris then resisted arrest when Acevedo tried to detain her, kicking and spitting several times on him and another officer who responded to the scene, police said.
The woman who was apparently intoxicated resisted, allegedly kicking the chief and then spitting in his face, police said.
FLORIDA TEACHER SENT NUDE PHOTOS TO TEEN BOY IN TEXAS, COPS SAY
KPRC-TV reports Paris remained jailed Monday, and was charged with harassment of a public servant, which is a felony.
Court records show Paris was arrested last month for spitting at another officer. The charge was later reduced to a misdemeanor.
Houston's top cop told KPRC-TV her previous arrest brings up a common concern for law enforcement.
"My concern is the person that was arrested and charged with a third degree felony to another officer that was plea bargained down to a misdemeanor and at some point, we shouldn't wait until somebody ends up getting hepatitis or some other kind of communicable disease from someone who makes a habit of spitting in first responders faces," Acevedo saidy.
Paris is being held at the Harris County jail on a $3,000 bail and is due in court again on Tuesday.
The Associated Press contributed to this report.