Wolves in California help veterans suffering from PTSD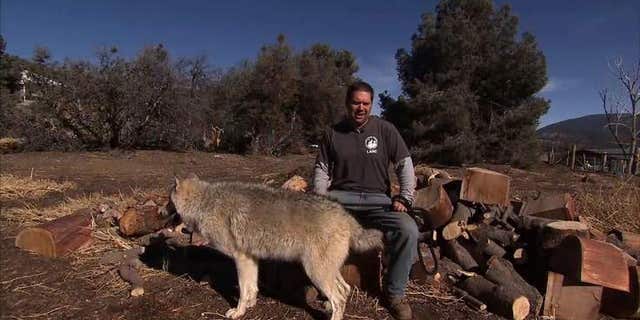 An animal sanctuary in California has developed a programme to help military veterans suffering with post-traumatic stress disorder (PTSD) by building relationships with some of nature's most mysterious animals.
Around 40 wolves live at the Lockwood Rescue Animal Rescue Centre, some saved from lives chained up in Alaska, others ill-advisedly bought as pets.
And founders Matt Simmons, a US Navy veteran, and Dr Lorin Lindner, a psychologist, say the animals are unique in the relationship they can offer those suffering the hidden scars of conflict.
Dr Lindner said: "These are wild animals who are choosing to make a relationship with you and that is profoundly important for someone suffering a traumatic stress disorder. One of the main symptoms of those disorders is the inability to trust, to build relationships, to feel like you're safe.
"These animals we are rescuing also have traumatic stress disorders, are also shy and have difficulty developing relationships and trusting again."
Dr Lindner says they developed the programme after seeing the success of bird therapy.
She says the struggles of the US Department of Veterans Affairs to help those returning from Iraq and Afghanistan also inspired them to take action.
Veterans who have taken part in the programme say it is been more helpful than conventional therapy.
Jim Minick spent 10 years in the US Navy and says he was "lost" when he left.
He said: "I can speak for myself and some of the veterans that I know and it is hard to re-integrate back into normal society and trusting people, trusting society, how they are going to judge you."
He credits his relationship with a wolf called Kehei for helping him.
He said: "These guys really don't judge you, they really don't care what you did before, they just care who you are and it is a really special bond, a special relationship.
"For me, it means a little more that this is an animal that's not normally friendly with humans, they are very shy, they stay away from humans at all costs and here he is, I can walk down the side of the fence and call him and he comes running."
Dr Lindner says wolves receive a "bad rap" - there hasn't been an attack on a human in the lower 48 states in recorded history, she says - but adds that this does not make them suitable as pets.
"They look cute and cuddly but these are wild animals," she said.