Witness claims California driver ran down motorcycle cop on purpose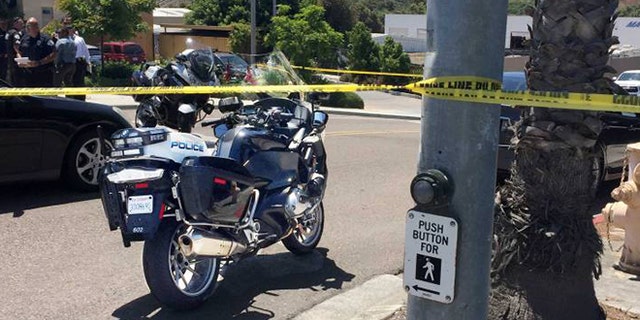 NEWYou can now listen to Fox News articles!
A motorcycle patrolman was airlifted to a hospital after being run down by a car, police said.
The patrolman had pulled over a driver on Oceanside Boulevard at Foussat Road at about 10:30 a.m. and was off his motorcycle when he was hit by another car.
The driver who hit the officer accelerated at the officer and appeared to hit him intentionally, pinning him against the other vehicle, a witness told FOX 5 News.
FLORIDA DEPUTY HAS CLOSE ENCOUNTER WITH A BEAR
The driver fled the scene after hitting the officer, but he was arrested several blocks away at Industry Street and El Camino Real, Oceanside Police Department spokesman Tom Bussey said. The suspect's name was not immediately available.
The injured officer is a member of the Oceanside Police Department. He was conscious and talking when he was loaded into the air ambulance and flown to a trauma center. There was no information about severity of his injuries.
READ MORE FROM FOX 5 SAN DIEGO.