Wisconsin waitress gives police officers touching note after cop's tragic death: 'I will always back the blue'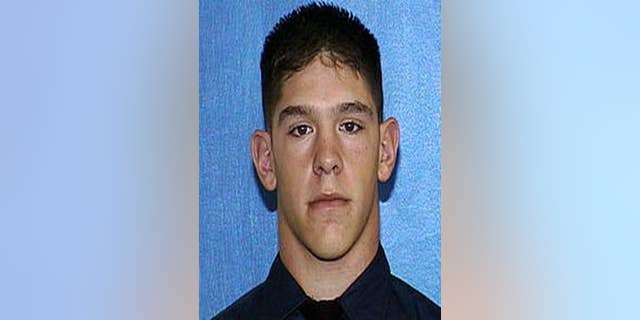 When Wisconsin waitress Stephanie Wengel spotted a customer wearing a shirt with a thin blue line flag on it, she felt compelled to ask the woman if she was a police officer.
The woman confirmed both herself and her husband, who was sitting beside her with their children, were officers. Wengel, a waitress at a Milwaukee Cheesecake Factory, was struggling to find the right words to say to the officers — just days after one of their own, 35-year-old Matthew Rittner, was killed on duty.
"All I said was, 'Thank you,'" she recalled to WJDT.
UNIVERSITY OF VERMONT TEEN FOUND DEAD IN SNOW A WARNING TO STUDENTS, PARENTS SAY
Rittner, a 17-year veteran of the force, was killed during a raid on a Milwaukee man's home. The officer was part of a tactical unit trying to serve a warrant to search the home for illegal drugs and weapons on Feb. 6 when he was fatally shot in the chest.
He was the third Milwaukee officer killed in the line of duty in eight months. The department had previously gone more than two decades without such a death.
"I will always back the blue."
"This was such an unfortunate event that really didn't need to happen," Wengel told the news station.
CHICK-FIL-A HONORS SLAIN VIRGINIA TROOPER, A REGULAR CUSTOMER, FOR 'PAYING THE ULTIMATE PRICE'
To show her support for the Milwaukee Police Department and officers across the country, Wengel decided to give the couple a note.
"Dear officers, I can't fathom what you're going through. I [want you to] know that [you're] loved, and despite the situation that has happened, I will always back the blue," Wengel wrote, according to WJDT.
Touched by the waitress' sweet gesture, the couple decided to contact Wengel's manager to say they were "super grateful."
CLICK HERE FOR THE FOX NEWS APP
"I can't imagine going through one of their funerals ... I don't think they get enough recognition," Wengel said, adding her father is a retired firefighter.
Jordan P. Fricke, 26, has been charged with first-degree intentional homicide and other crimes in the fatal shooting of Rittner. A $1 million cash bond was set Sunday for Fricke, who remained in jail.
The Associated Press contributed to this report.