Wisconsin police department congratulates high school students on prank: 'Hats off'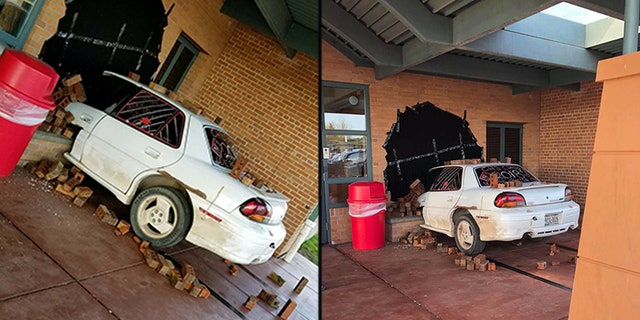 Authorities in Wisconsin have commended a high school prank which involved a supposed car accident.
Cumberland police posted images on Facebook Monday, which seemed to show a car "smashing" into Cumberland High School.
"Hats off to the Cumberland High School Class of 2018 on your senior prank," authorities wrote. "Congratulation Class of 2018 on one of best senior pranks that Cumberland High School has seen."
School property wasn't damaged by the stunt -- which was pulled off with black tarp, bricks, a junk car and tape.
"Students positioned an old junker strewn with loose bricks in front of what appeared to be a gaping black hole in the building's side, just outside the principal's office," the Cumberland School District said. "It wasn't actually a hole, though. Using tape and a black tarp, the students created the illusion of damage, making it look like the car crashed into the side of the building."
CALIFORNIA MAN CAUGHT BREAKDANCING ON VIDEO AFTER BREAKING INTO BUILDING, POLICE SAY
The police department's Facebook post has been shared more than 1,700 times as of Tuesday night.
In the comments section, a few people praised the police for their take on the situation.
"Hats off to Cumberland PD for having a sense of humor! People are too serious these days . Great prank! Sometimes things are just funny! Laugh people!" one person said.
"So creative! Great job at pulling off an artistic and safe senior prank! Way to go Cumberland P.D. for being supportive!!!" another commenter echoed.
A different person thanked the department "for supporting our CHS Seniors in their prank! The students worked hard to keep it clean, safe and fun!"
"This is will be hard to beat [sic]," authorities replied.