Winter storm may bring over a foot of snow to the Northeast
A winter storm moving across the country may bring more than a foot of snow across the Northeast by Wednesday as the region continues the cleanup from a destructive nor'easter last week.
The National Weather Service issued winter storm watches on Monday from northeast Pennsylvania and northern New Jersey into parts of southeast New York and New England, including Boston and New York City.
The best chance for accumulating snow will be northwest of the Interstate 95 corridor, according to Fox News Senior Meteorologist Janice Dean.
"Some areas could get over a foot, but again we will fine tune things over the next 24 hours," she said.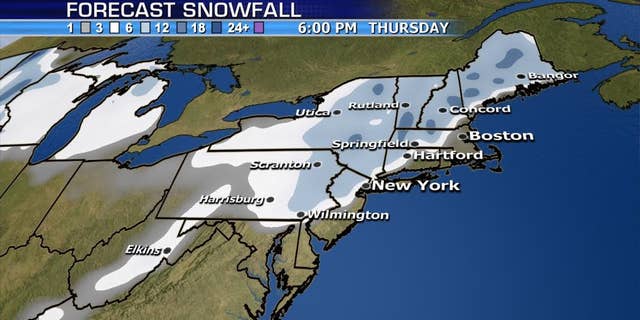 The nor'easter is expected to bring snow and strong winds of up to 40 mph near the coast, creating travel delays, and possible power outages across the region, according to Dean.
"Snow and gusty winds are expected, but the exact track and intensity as well as where the line of snow and rain sets up are still yet to be determined," she said.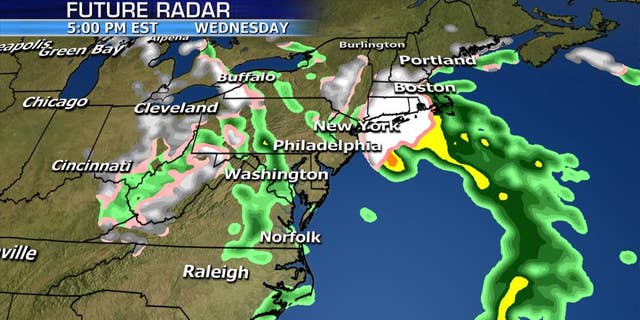 Utility crews continue to work to restore power to nearly 300,000 customers from Virginia to Massachusetts that remain without power. At the height of the storm, more than 2 million homes and businesses were without electricity.
"Snow and gusty winds are expected, but the exact track and intensity as well as where the line of snow and rain sets up are still yet to be determined."
Three days after the storm, some residents across the region were still unsure when they could return to their homes. Dozens of Massachusetts schools remained closed, most in coastal areas south of Boston, which bore the brunt of the storm.
NOR'EASTER UNCOVERS WRECK OF REVOLUTIONARY WAR-ERA SHIP ON MAINE BEACH
The region's major airports were operating at near normal capacity. The Massachusetts Bay Transportation Authority was reporting commuter rail delays, particularly along coastal routes still recovering from weather-related problems.
Massachusetts utility companies Eversource and National Grid said they are working to have service restored by Tuesday evening.
"It's an act of God, they are doing the best they can - I appreciate what they do," Kevin O'Donnell, of Cohasset, Mass. told Boston 25 News.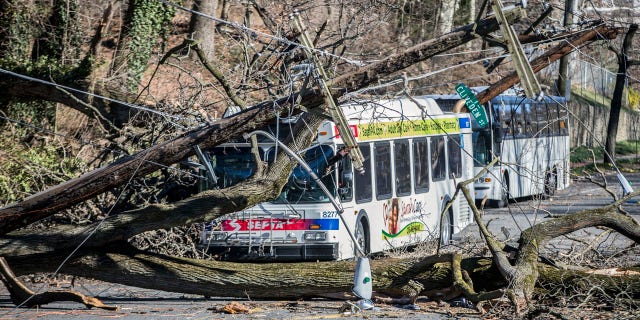 In Pennsylvania, 100,000 were waiting for power to be restored as hundreds of crews worked to clear trees and repair power lines. Officials said some customers may not have service restored until at least Tuesday.
In New Jersey, more than 75,000 were without electricity Monday, and it could take another day before all service is restored. The hardest hit area was northern New Jersey, where some schools were closed amid numerous downed trees and power lines and flooding.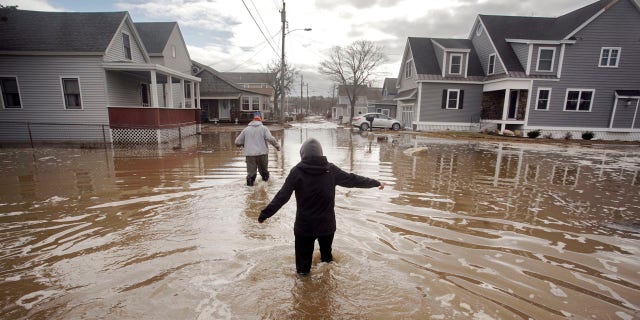 Nearly 50,000 people in the Washington area were without power Monday, and some might not have service restored for a few more days.
The vice president of technical solutions at Dominion Power, Kevin Curtis, tells WTOP that last week's storm was a "top five event" as far as the number of customers affected, which totaled almost 70,000 homes and businesses. He says about 25 percent of the company's system was affected by the storm.
The Associated Press contributed to this report.