William and Kate Arrive in Los Angeles for U.S. Trip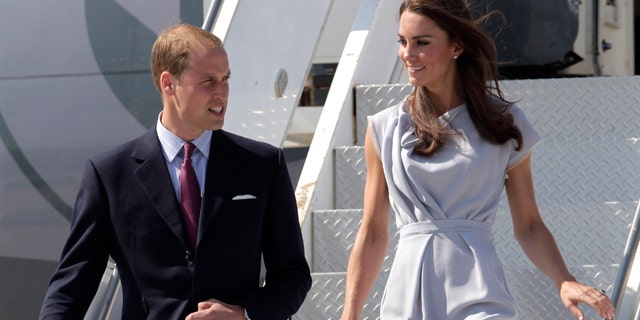 NEWYou can now listen to Fox News articles!
LOS ANGELES – The Duke and Duchess of Cambridge arrived in Los Angeles on Friday to begin a whirlwind weekend in Tinseltown.
Prince William and his wife touched down at Los Angeles International Airport just before 4 p.m. aboard a grey Canadian military jet. On the tarmac, the pilot flipped open a cockpit window and waved William's Canadian flag.
The royal couple had departed Calgary earlier in the day after wrapping up a nine-day trip to Canada, their first foreign visit since getting married in April.
The former Kate Middleton, who left Canada in a red satin and wool scarlet coat-dress by Catherine Walker, changed aboard the flight and emerged under sunny skies in Los Angeles wearing a light-colored cowl-neck knee-length dress. William wore a navy blue suit with a purple tie.
They were greeted by California Gov. Jerry Brown, Los Angeles Mayor Antonio Villaraigosa, the British ambassador and consul general and other officials.
They climbed into a black Range Rover and headed for their first event, a technology summit in Beverly Hills aimed at promoting U.S. investment in British tech firms.
Accompanied by a California Highway Patrol motorcade, the duke and duchess avoided rush-hour traffic on the 10-mile route by staying off the clogged freeways.
Though Prince William has been to America before, it will be Kate's first trip to the U.S. William's late mother, Princess Diana, who would have turned 50 this month, charmed Americans when she visited in the 1980s.
Authorities have put the paparazzi, known for their cutthroat tactics, on notice that aggressive actions will not be tolerated. Photographers were partly blamed for causing the Paris crash that killed Princess Diana in 1997.
Residents in Hancock Park, the exclusive neighborhood that is home to the British consul general where William and Kate will stay, have worked with police to create no-trespass notices for their homes. Any photographers standing on their driveways will be instantly arrested.