In bodycam footage so stunning it could be mistaken for a Hollywood action flick, a Las Vegas Metro police officer chasing two men in an SUV is seen speeding through Sin City's downtown while simultaneously shooting out his car's front windshield and trading shots from his side window during a deadly gun battle.
The two suspects allegedly fled after a July 11 traffic stop conducted by cops investigating the murder of a man near a car wash, FOX5 Vegas reported.
The suspects traded more than 60 shots with police during the harrowing pursuit. The officer behind the wheel, William Umana, can be heard on video yelling "shots fired" multiple times. The chase ended when the suspects crashed into the wall of an elementary school.
Rene Nunez, 30, got out of the vehicle and tried to run upstairs into the school, but the door was locked, Las Vegas Metro police Assistant Sheriff Tim Kelly said.
Fidel Miranda, 23, moved toward the passenger seat of the SUV and started to move it back toward the officer's cruiser. Police fired on Miranda and he later died at the scene. Nunez, who was also wounded, was arrested and is facing several felony charges, including murder, police said.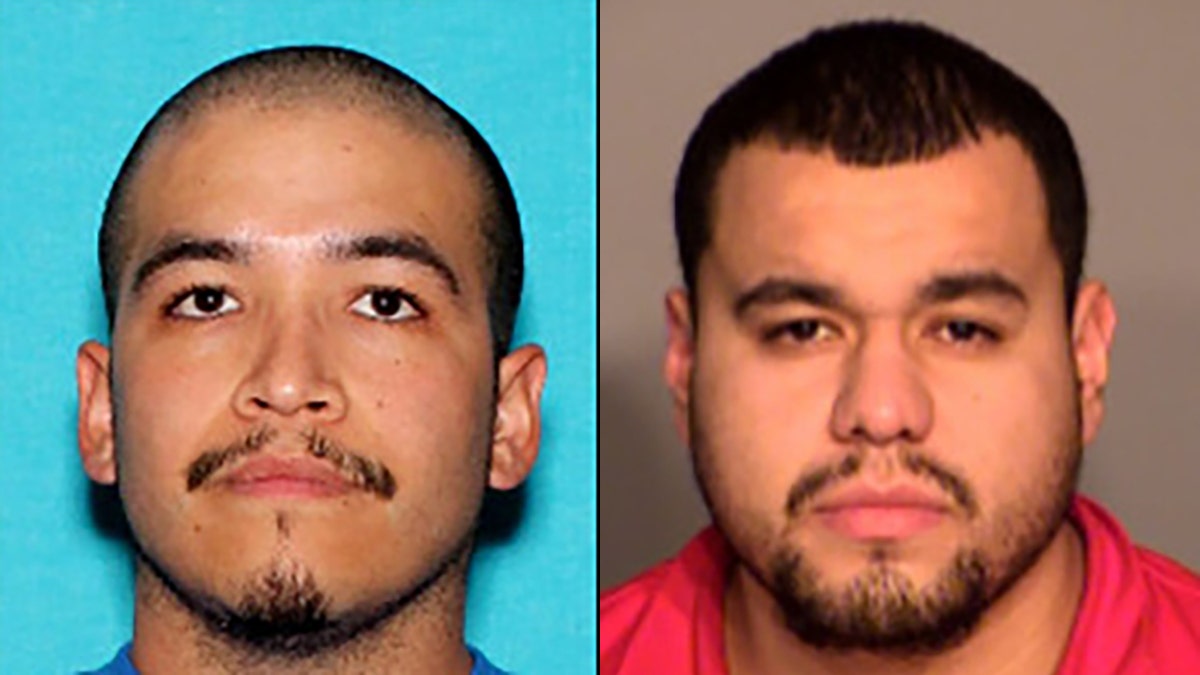 Police said the suspects fired 34 rounds at the officers and Umana fired 31 shots at the men in the SUV.
The shooting "paints a picture of the dangers these officers dealt with that day," Kelly said.
"In my opinion, they show a level of bravery, professionalism, heroics, that we come to expect of our officers," Kelly said. "The officer could have backed off but he didn't, he stuck with that individual knowing what type of individual he was dealing with."
Nunez and Miranda both have a lengthy criminal past.
Nunez has been convicted three times and also has been arrested on robbery with a deadly weapon, robbery and grand larceny auto charges.
Miranda had previously been convicted of conspiracy to commit robbery and arrested for robbery, kidnapping, grand larceny auto, prohibited person in possession of a firearm and narcotics.
The Associated Press contributed to this report.