Wife of American Killed on Mexican Border Says U.S. Not Doing Enough to Find Body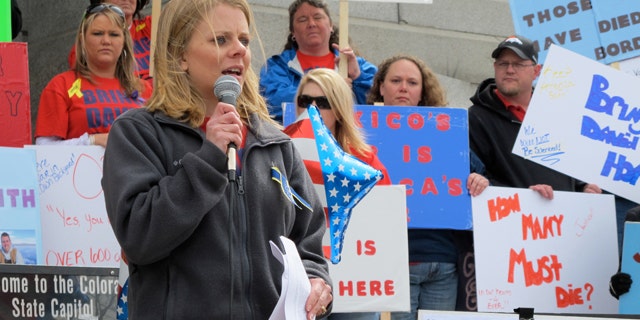 NEWYou can now listen to Fox News articles!
Tiffany Hartley, the wife of the American believed to have died in a hail of bullets while jet-skiing on the border of Texas and Mexico, marked sixth months since the incident by calling on the U.S. government do more to find and bring home his body.
Investigators say that David Hartley was killed by Mexican gang members. His body presumably still lies at the bottom of the border lake.
The border runs through the middle of the Falcon Reservoir, a popular recreation area. Tiffany Hartley told investigators she and her husband were riding Wave Runners on Sept. 30 when they were approached by men in three boats who opened fire. Hartley said her husband was shot in the head and went under while she escaped under fire.
There have been several similar attacks on the lake and many in the area believe the men in the boats are members of a Mexican drug cartel, investigators say.
Hartley and about 30 supporters held a rally on the steps of the Colorado State Capitol in Denver on Wednesday. They issued a call on the U.S. and Mexican governments to solve the crime and find David's body.
"Today marks the six-month anniversary since David was killed," Hartley said, "And it's been six months since they, our government, and the Mexican government have not done enough for David, and for the family and friends, to bring him home and make sure that he's back."
Harley, in an interview with Fox News before the rally, said the response would have been different if a U.S. official were the one killed.
"And we're not the only ones in this situation," she said. "We know there're hundreds of other Americans that are going through the same thing, having a family member missing in Mexico. And it's just not right."
The State Department's own Database of Death of U.S. Citizens Abroad states that since October 2002 there have been at least 864 Americans who have "died from 'Homicide'" in Mexico, and the report acknowledges that the its estimate may be low. "Only those deaths reported to the Department of State and deaths that can be established as non-natural are included," it says.
In response to Hartley's contention that the U.S. government has not done enough to help bring her husband's body home, a State Department official told Fox News that the two countries haven't given up on the case.
"We are aware of Tiffany Hartley's frustration and distress over her husband's case remaining unresolved. The U.S. Consulate General in Matamoros, Mexico, remains in regular contact with Ms. Hartley and with local prosecutorial authorities in Mexico," the official said. "It's our understanding that the case is considered to be an active investigation by Mexican authorities. The Consulate General has no information on any resumption of the search."
Tiffany's frustration is evident. "Investigation wise, we call and they say they're doing what they can. But day to day, it's hard. It's really hard because it's just constantly realizing and waking up every morning and … he's not here, and that I'm not ever going to see him on this Earth again.
"And ultimately in the end my purpose right now is just fighting for him and fighting for the other Americans that are in our situation."
So Hartley is putting the government on notice: "I'll tell you today, I'm not going anywhere. I haven't gone anywhere for the last six months, and I will stick this out for the long haul. I will continue to fight for David and I will continue to annoy you."
After Wednesday's rally Hartley hand-delivered a letter to Gov. John Hickenlooper's office asking him to help keep up the pressure on the U.S. and Mexican governments. Hickenlooper was out of town on a wildfire preparation fact finding tour at the time and did not receive the letter personally.
Former Rep. Tom Tancredo also spoke at the rally, saying a call for former Colorado Gov. Bill Ritter to intercede on Hartley's behalf with the U.S. and Mexican governments fell on deaf ears.
"So today, I'm asking again of this new governor, will you please add your voice to ours? Please ask them to do something about this tragedy and that of many, many others," he said.