Who is Billy Graham? 9 things to know about the famed evangelist
Mourners are gathering to give a final tribute to "America's pastor," famed Christian evangelist Rev. Billy Graham, Wednesday at a funeral service he began planning himself nearly a decade ago.
About 2,000 people, including President Trump and Vice President Mike Pence, were invited to attend the noon service for Graham, who died Feb. 21 at the age of 99. The service will take place under a tent outside the Billy Graham Library near his home in Charlotte, North Carolina.
After the service, Graham will be buried next to his wife in a memorial prayer garden at the library – with his grandchildren serving as pallbearers.
"His fingerprints are on this service for sure," family spokesman Mark DeMoss said. "The Graham family has long considered that his funeral eventually would really be his last crusade."
On Wednesday, Graham became only the fourth private person to lie under the U.S. Capitol Rotunda since 1998, joining civil rights icon Rosa Parks and two Capitol Police officers killed in the line of duty.
From authoring countless sermons, to bringing the Bible's message to hundreds of nations, Graham's life was dedicated to his family and work.
A Presidential Medal of Honor recipient, Graham has also met with every president since Harry S. Truman. Here's a look at 9 things to know about the late evangelist.
He was raised on a dairy farm in North Carolina
Born on Nov. 7, 1918 as William Franklin Graham, he grew up on a dairy farm near Charlotte, N.C., according to his biography.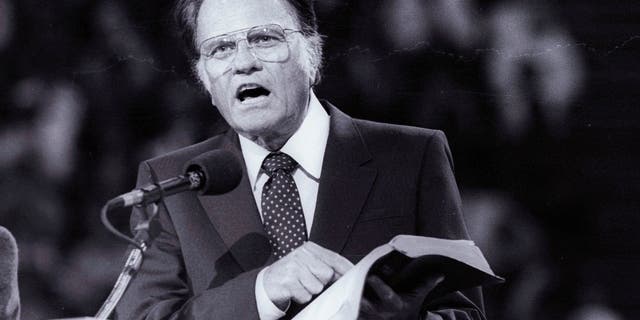 He would become ordained in 1939 by Peniel Baptist Church in Palatka, Fla., which is part of the Southern Baptist Convention.
He earned a bachelor of theology from the Florida Bible Institute in 1940 and a bachelor of arts in anthropology from Wheaton College in 1943.
Graham preached to millions of people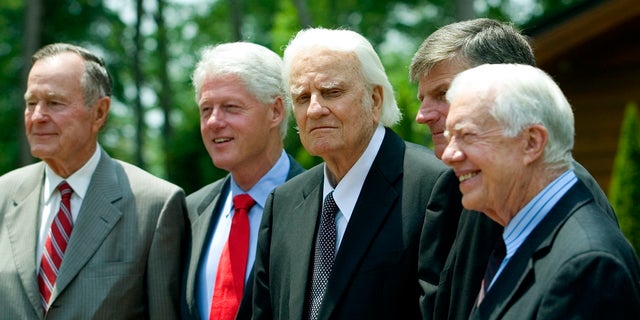 According to his biography, Graham preached to more than 215 million people in more than 185 countries in his lifetime. And he reached others with his message through television programs and webcasts.
"Evangelist Billy Graham took Christ literally when He said in Mark 16:15, 'Go ye into all the world and preach the Gospel to every creature,'" his biography states.
He's met with every U.S. president since Truman
Graham met with every U.S. president since Harry S. Truman – and two even offered him positions in their administrations.
Graham turned down positions from both former presidents Lyndon B. Johnson and Richard Nixon, according to his website. But he reportedly did go skinny-dipping with Johnson once at the White House.
Former President George W. Bush credits Graham with helping him quit drinking.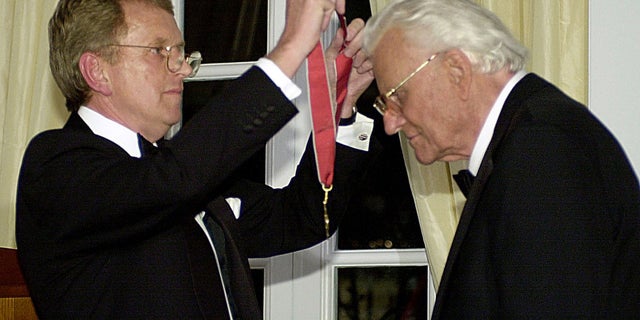 In 2010, former President Barack Obama met with Graham at his home in Montreat, N.C. – the first sitting president to do so.
Bush and former President Bill Clinton already paid their respects to Graham at his evangelical center in Charlotte. Trump is expected to be the only living president to attend his funeral.
Graham was friendly with Queen Elizabeth and was knighted
Graham had a friendly relationship with Queen Elizabeth and spoke to her multiple times in her private chapel, his son, Franklin, told the Washington Post.
It's also possible, Franklin said, that his father gave the queen a Bible – as he often gave foreign dignitaries the most recent one he was carrying.
Graham was made an honorary knight in December 2011 at a ceremony in Washington, the Telegraph reported. He was knighted by the British ambassador, Sir Christopher Meyer, on behalf of the queen.
He's known for his "crusades"
Graham is known for the hundreds of "crusades" he embarked on throughout his life. Graham would travel to multiple countries and across the U.S. to preach the Gospel.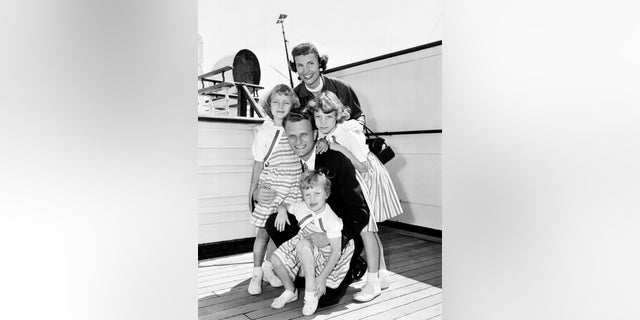 His first crusade was held in Grand Rapids, Mich., in 1947.
In 1957, he preached at Madison Square Garden in New York for 16 straight weeks to a packed audience.
Graham is the father of five children
Graham met his wife, Ruth, while they attended Wheaton College in Illinois. The pair married in 1943 and had five children.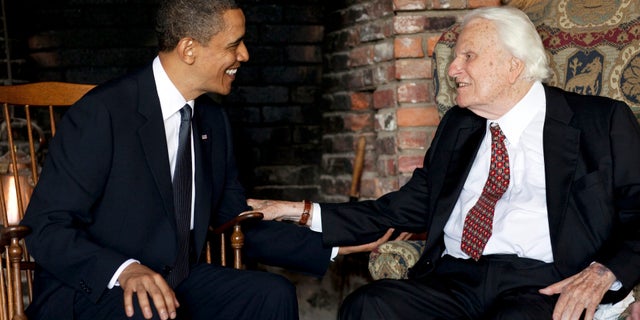 His children have all gone on to become speakers or involved in ministry in some form or fashion. His son, Franklin, is the president of the Billy Graham Evangelistic Association (BGEA), which his father founded in 1950.
Originally headquartered in Minneapolis, the BGEA started the weekly "Hour of Decision" radio program, a syndicated newspaper column and television programs shown on Christian networks.
He's a Presidential Medal of Freedom recipient
Former President Ronald Reagan awarded Graham the Presidential Medal of Freedom in 1983.
At the time, Reagan praised his "untiring evangelism" and called him "one of the most inspirational spiritual leaders of the 20th century."
"Billy Graham is an American who lives first and always for his fellow citizens. In honoring him, we give thanks for God's greatest spiritual gifts—faith, hope, and love," Reagan said.
Graham is the author of dozens of books, sermons
Graham authored 32 books in his lifetime, including his autobiography, "Just As I Am."
He's also written – and delivered – countless sermons.
He was the target of the Ku Klux Klan
During heightened racial tensions in 1963, Graham refused to be deterred when the Ku Klux Klan targeted one of his planned crusades – an integrated event.
"The Ku Klux Klan went around and knocked out our signs," Graham recalled in a BGEA blog post. "The State Police had to send policemen with us wherever we went — before my car and after my car. The police were also in the rooms around me because they were afraid we would get shot."
According to the BGEA, the first massive integrated event in Alabama drew some 30,000 people.
The Associated Press contributed to this report.