Where is Guam and why would North Korea attack it?
NEWYou can now listen to Fox News articles!
North Korea launched what it called a successful missile in August that flew over Japan and into the northern Pacific Ocean – an apparent threat to Guam, according to its state run media.
After the launch, North Korean leader Kim Jong Un called for even more weapons launches targeting the Pacific Ocean to advance his country's ability to contain the U.S. territory of Guam, state media said.
The launch seemed designed to show that North Korea can back up a threat to target Guam, if it chooses to do so, while also establishing a potentially dangerous precedent that could see future missiles flying over Japan.
Guam, a U.S. territory in the western Pacific Ocean, is tiny – but its strategic location is of great importance, especially to the U.S. military.
Here's a rundown on the island and its significance.
Location          
Roughly 2,100 miles south of North Korea, Guam is one of the U.S. territories closest to Asia.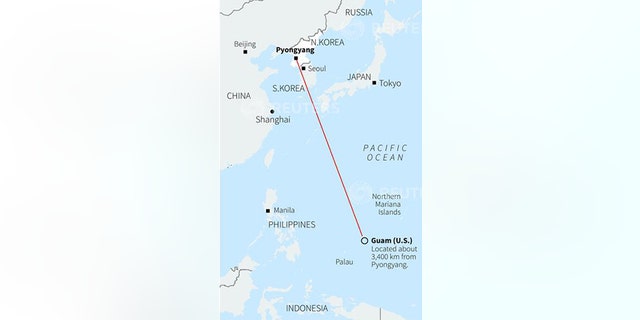 Guam, which is 210 square miles, is nearly 4,000 miles west of Hawaii.
Its proximity to China, Japan, the Philippines and the Korean Peninsula has long made the island an essential position for the U.S. military.
Military importance
Reportedly called America's "permanent aircraft carrier" by military commanders, Guam is home to some 7,000 U.S. service members. Its total population is more than 162,000, according to the latest census data.
The U.S. keeps a Naval base and Coast Guard station in the south, and an Air Force base in the north that saw heavy use during the Vietnam War.
While already taking up 30 percent of the island, the American military has been seeking to increase its presence by relocating thousands of Marines, who are currently based in Okinawa, Japan, to Guam.
Former Deputy Defense Secretary Bob Work said in 2014 that Guam increasingly has become a strategic hub for the U.S. military.
"Guam has always been a central part of our plans," Work said then. "Certainly, a central part of the Navy's plans, but now a central part of the entire Department of Defense's plans."
Guam is also armed with the U.S. Army's missile defense system – known as the Terminal High Altitude Area Defense, or THAAD – the same system recently installed in South Korea.
While the 162,000 Guamanians on the island rely primarily on tourism, the U.S. military is also essential to the island's economy.
Relationship with the U.S.
Though Guam was initially claimed by Spain in 1565, it became a U.S. territory in 1898 during the Spanish-American War.
Japan seized it for more than two years during World War II. But in 1950, an act of Congress made it an unincorporated organized territory of the United States.
Guam has limited self-government, with a popularly elected governor, small legislature and a non-voting delegate in the U.S. House of Representatives. Residents do not pay U.S. income taxes or vote in the general election for president, but they are U.S. citizens by birth.
Guam's response
Despite the growing concerns and threats, Guamanians feel reassured and protected by the military.
"I feel that the presence of the military on Guam will help us a lot," said Virgie Matson, 51, a resident of Dededo, Guam's most populated village. "They are here to protect the islands, just in case something happens."
A missile launched from North Korea would only take about 14 minutes to reach the island, Guam Homeland Security spokeswoman Jenna Gaminde told the Pacific Daily News. And if a missile would be fired, Guam residents would be notified immediately through alert sirens.
In an interview with Fox News, Guam Gov. Eddie Calvo dismissed the continuing threats from North Korea, chalking them up to the nation's "position of fear."
"There is a defense umbrella contained within South Korea, there is a defense umbrella for Japan, there are naval assets between Korea, Japan and Guam, and there is a missile defense system of Guam that make up a multi-level defensive umbrella," Calvo said.
Calvo thanked Trump for his support in a recent phone call and said "everyone should be unifying behind our president."
"Mr. President, as the governor of Guam representing the people of Guam and as an American citizen, I have never felt more safe or as confident with you at the helm," Calvo said. "We need a president like you, so I'm just so thankful, and I'm glad you're holding the helm, sir."
Trump responded that Guam shouldn't "have to worry about a thing." He also said tourism in Guam will "go up ten-fold."
Guam Lt. Gov. Ray Tenorio called Kim Jong Un "the demon" in the rising tensions and said threats from North Korea aren't uncommon.
"We know that multiple layers of defense that protect our island, along with the rest of our partners and our allies in the region, we have confidence in them," Tenorio told Fox Business.
"An attack or threat to Guam is a threat or attack on the United States," Calvo, who has been in contact with White House officials said. "They have said that America will be defended."
The Associated Press contributed to this report.