WHAT'S HAPPENING: Irma creeps ever closer to Florida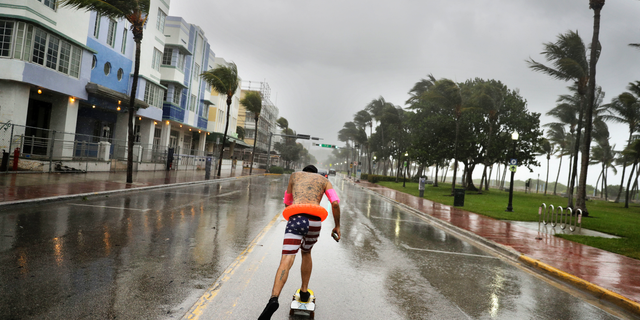 MIAMI – Hurricane Irma hammered Cuba and marched toward the Florida Keys on Saturday with punishing winds and rain. Irma was expected to regain strength over warmer waters before hitting the Keys on Sunday morning. The storm left more than 20 people dead in the Caribbean.
___
GET THE ANIMALS OUT
Cheetahs, horses and sloths have been evacuated ahead of the storm, and some of the animals were taken to a Key West Jail. Around Florida, zoos, theme parks, rescue centers and other places with animals braced for Hurricane Irma's arrival. Five dolphins were moved from the Florida Keys to Central Florida in advance of the storm, but most zoos and the like in the Miami area said they were trying to keep their animals in place and secure from whatever Irma will bring.
RIDING OUT THE STORM
Authorities asked more than 6 million people in Florida and Georgia to evacuate before Hurricane Irma's storm surge and fierce winds make leaving — or rescuing — impossible. But some around Florida are choosing to stay , a rite of passage for many in the state who boast about the storms they weathered: Camille, Andrew, Katrina and others.
WHERE'S MY WATER?
More than 50 Floridians told The Associated Press that they did not receive flashlights, battery-operated radios, boxed milk, water bottles and first-aid kits after placing orders on Amazon.com and Nestle's ReadyRefresh. Amazon spokeswoman Amanda Ip said that deliveries were experiencing delays because of the weather conditions. ReadyRefresh posted an apology Friday on Twitter for service disruptions and delivery delays.
WHAT'S AHEAD FOR IRMA?
It's looking more likely that the eye of powerful Hurricane Irma will strike the Keys, southwestern Florida and the Tampa Bay region. The U.S. National Hurricane Center said the storm is expected to strike the Sunshine State as a dangerous Category 4 storm. But Irma is so large that even if the eye is to the west, places such as the Miami metropolitan area - will get dangerous winds and water.
___
WHAT HAS IRMA DONE SO FAR?
Irma battered Cuba on Saturday with deafening winds and relentless rain. Homes were flooded homes, power was knocked out and roads were blocked by debris and fallen power poles. Dutch officials said Irma damaged or destroyed 70 percent of St. Maarten island's homes.
___
HURRICANE JOSE FOLLOWS CLOSELY BEHIND
Hurricane Irma is being closely followed by Hurricane Jose , which is likely to bring fresh misery to a number of islands wracked by Irma. Jose was described as a "dangerous" Category 4 storm. Hurricane warnings were in effect for the islands of Sint Maarten, St. Martin and St. Barthelemy.
___
IRMA THREATENS U.S. SOUTHEAST
The Southeast is bracing for potentially far-flung impacts from Hurricane Irma. Forecasters say the storm could swamp the coast near Savannah and topple trees and power lines in Atlanta. The entire Georgia coast was under a hurricane watch Saturday. Alabama Gov. Kay Ivey issued a state of emergency late Friday, ahead of the storm's arrival.
___
IRMA-STORM SURGE
The biggest danger to life and property from Hurricane Irma could come from storm surge that forces seawater inland, which could topple houses, isolate residents who don't evacuate and make drowning an imminent threat, the National Hurricane Center is warning.
___
HURRICANE NEWSLETTER - Get the best of the AP's all-formats reporting on Irma and Harvey in your inbox. http://apne.ws/ahYQGtb