West Virginia University student dies after found unresponsive at frat; tweet investigated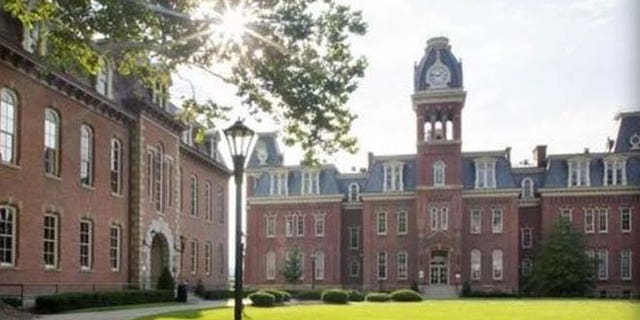 West Virginia authorities Saturday are investigating the death of a college student found unresponsive earlier this week at a campus frat house after he sent out a haunting tweet.
"It's about to be a very eventful night to say the least," Nolan Michael Burch,18, a freshman at West Virginia University, tweeted. Burch died Friday two days after he was found unconscious and not breathing at the Kappa Sigma fraternity house. On Thursday the school ordered a halt to all activities at fraternities and sororities.
Police arrived at the frat in Morgantown and found someone performing CPR on Burch. His death was confirmed by Amy Johns, a spokeswoman for WVU Healthcare. Burch was being treated at the system's Ruby Memorial Hospital.
Morgantown Police Chief Ed Preston confirmed that Wednesday night's call to police was alcohol-related, but he could not comment on whether alcohol caused Burch's death. No charges have been filed.
Burch sent out a paragraph of text in a tweet on Tuesday that ended, "If you're reading this, congratulations, you made it today. You made it."
The Buffalo News reported Friday that others at the frat house party "challenged" Burch into drinking large amount of liquor.
The newspaper cited as its source a "family friend" who had talked to Burch's family.
One family friend told the News that Burch's parents, Theron and Kimberly Burch, were devastated. "They're just numb right now," the friend said. "They have donated his organs and are proud of that. I can tell you that about 24 people were crowded into his hospital room singing "Take Me Home, Country Roads," not long be he died."
The family made the five-hour journey from Burch's home in Williamsville, New York, to the hospital to be with him.
Burch's great-aunt told NBC News Friday that she was "shocked" over the death.
"These things shouldn't happen," Joyce Stamp said. "He's only 18. He's a nice young man and I'm shocked."
But Stamp added that Burch was a freshman and "even very intelligent kids sometimes get caught up."
You hear all the stuff about hazing, and this is his first time away from home," she said.
Dominic Parisi, 18, who graduated from Canisius High School in Buffalo with Burch, said his friend played hockey and lacrosse and that he had committed to a college before anyone else at their high school.
"He knew he wanted to go to WVU before anyone else," Parisi said. "This was where he wanted to be."
Canisius High School held a prayer service for Burch on Friday morning, WSAZ reports. The West Virginia University Inter-Fraternity Council and Panhellenic Council also scheduled a candlelight vigil Friday night at the Morgantown campus.
Burch's Facebook page says he was studying business management.
The Morgantown chapter of Kappa Sigma had been suspended since mid-October because of other violations of the fraternity's code of conduct, according to a press release from Leo Brown, director of chapter services at Kappa Sigma. The release said the fraternity was still investigating the circumstances of the incident with Burch.
"We are distraught and saddened by the news about WVU student Nolan Burch," the statement read, adding that it will be looking to provide counseling for members of the chapter.
Meanwhile, the group's charter has been withdrawn and its operations closed, Brown said.
The suspended fraternity activity at WVU is in place indefinitely. The suspension follows Wednesday's incident as well as a Nov. 6 incident in which three students were arrested and 16 were cited by Morgantown police for causing a late-night disturbance in Morgantown's South Park neighborhood.
Police are investigating both incidents.
WVU President E. Gordon Gee also announced Burch's death in a press release.
"The outpouring of love and support from his friends and this community has been what you would expect from Mountaineers, and I would ask that you continue to keep the Burch family and many friends in your thoughts and prayers," he said.
On campus, students described Burch's death as emotional.
"Personally, I'm deeply saddened," Matt Carter, a member of another fraternity, Alpha Sigma Phi, told the Pittsburgh Post-Gazette. "I wasn't aware of the actions that happened there that night. I was shocked."
The Associated Press contributed to this report.