Wendy's customer smacks California thief with chair, prevents robbery, report says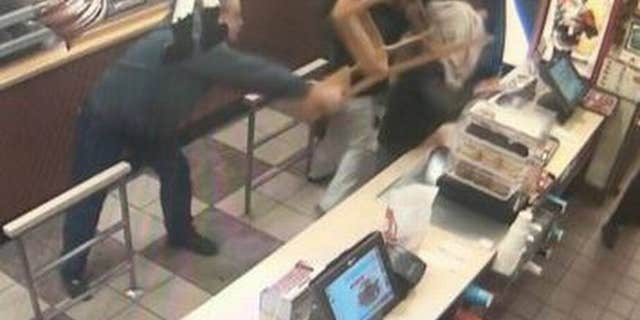 A man is being heralded a hero after he stopped a Christmas robbery at a Wendy's in California by bashing the thief over the head with a chair, reports said.
The knife-wielding suspect, whose face was covered, pushed his way to the front of the line at the fast food restaurant on Monday evening, demanding money from the cashier, Yuba City police officials told The Sacramento Bee.
An onlooker named Daniel told Fox 40 that he saw the man "brandish a knife" at the employee, and then turn to someone next to him and say, "She'll take care of you in a minute."
UTAH SHERIFF'S DEPUTY RESCUES BOY FROM ICY WATER, OFFICIALS SAY
"And that's when I brought the chair down on his head," Daniel said.
The bystander, who told the outlet he had training as an Air Force security policeman, said he noticed the thief's weapon and acted because he didn't "want this to turn into somebody's Christmas memorial."
"And yeah, it was about that time, I took a couple steps with that big chair in my hand and brought it down on his head," Daniel told Fox 40.
WENDY'S SOCIAL MEDIA TEAM GETS REAL ON REDDIT'S 'ASK ME ANYTHING' FORUM
Police said the suspect hit the ground before darting out the door and into a white sedan, The Sacramento Bee reported.
"I'm sure it didn't feel good … he didn't even try to continue what he was doing," Yuba City Police Department Lt. Jim Runyen told the outlet.
Employees at the Wendy's applauded Daniel as a hero, saying, "He helped us instead of standing back and watching," Fox 40 reported.
But Daniel told the outlet that he'd "like to think that anybody would do something like that."