Weather helps firefighters battling Washington state blaze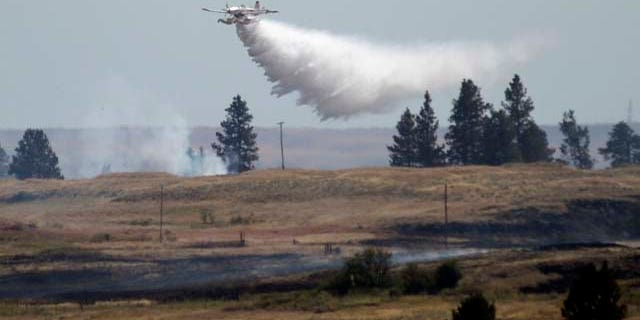 NEWYou can now listen to Fox News articles!
SPOKANE, Wash. – Calmer winds and cooler temperatures helped firefighters go on the offensive Monday against a destructive wildfire that has charred hundreds of square miles in Washington state and is the largest in state history.
The Carlton Complex of fires in north-central Washington had burned about 379 square miles, fire spokesman Andrew Sanbri said Monday. That would make it the largest wildfire in the state since record-keeping started.
"There is optimism in the air, but we don't want to give the impression that all is good," Sanbri said. "Things are improving."
The fire was just 2 percent contained Monday.
Okanogan County Sheriff Frank Rogers was also encouraged.
"Right now there's honestly no wind," Rogers said Monday night, noting that rising evening winds complicated earlier firefighting efforts. "I'm hoping this is helping."
Fire crews quickly attacked a new fire east of Tonasket on Monday, Rogers said. A half-dozen homes were briefly evacuated, but the fire burned past them with no destruction.
Residents of a couple of dozen additional rural homes were told to leave Monday, but Rogers said that was just a precaution.
Cooler temperatures and higher humidity continue to be in the forecast, but the area is also on "lightning watch" Tuesday through Thursday. "We don't need any more lightning," Rogers said.
At 243,000 acres, the Carlton Complex was larger than the Yacolt Burn, which consumed 238,920 acres in southwestern Washington in 1902 and was the largest recorded forest fire in state history, according to HistoryLink.org, an online resource of Washington state history. The Yacolt Burn killed 38 people.
Rogers has estimated that 150 homes have been destroyed already, but he suspected that number could rise. The fire is being blamed for one death.
Firefighters on Monday had planned to burn fuel on the north side of the fire to help build a fire line, but that operation was canceled, fire spokesman Don Carpenter said.
Firefighters were hampered by the loss of electricity in the area due to downed power lines and poles, which hurt communications. There was no estimate on when utilities would be restored.
The forecast for Monday and Tuesday called for lighter winds and lower temperatures, said Spokane-based National Weather Service meteorologist Greg Koch.
Then on Wednesday a vigorous front is expected to cover Washington, bringing rain to much of the state. But it will also bring lightning, Koch added.
"We may get some rain where we need it, but we may also experience some lightning that could cause some new ignitions," he said.
The fire has created smoky conditions and reduced air quality in much of eastern Washington and northern Idaho.
One man died of an apparent heart attack while fighting the fire near his home, Rogers said.
Rob Koczewski, 67, was stricken on Saturday while he and his wife were hauling water and digging fire lines near their home. Koczewski was a retired Washington State Patrol trooper and U.S. Marine, Rogers said.
There are more than 1,600 firefighters battling the flames, assisted by more than 100 fire engines, helicopters dropping buckets of water and planes spreading flame retardant, Sanbri said.
Many towns in the scenic Methow Valley remain without power and have limited landline and cellphone service. Fully restoring power to the area could take weeks, Okanogan County Public Utility District officials told KREM.
More than 100 Washington National Guard soldiers are supporting state Department of Natural Resources firefighters, state spokesman Mark Clemens said Monday. National Guard helicopters have dropped more than 500,000 gallons of water on the fires.