Wayne State University police officer dies in shooting
The Wayne State University police officer shot Tuesday night while on partol near the Detroit campus died from his injuries, university police told Fox2Detroit.com.
Canine officer Collin Rose, 29, was reportedly surrounded by friends, family and more than 100 other police officers when he died shortly before 6 p.m. at Detroit Receiving Hospital. Rose was on life support following surgery late last night. He was in critical condition since he was shot on the job at about 6:45 p.m.
"I don't believe he was specifically targeted" because of his uniform, Wayne State Police Chief Anthony Holt said at a news conference on Wednesday.
Holt said a suspect is being interrogated for the attack. A weapon has not been recovered and the suspect in custody has not been charged.
"We're trying to put the pieces together," he added.
Detroit Police Chief James Craig Rose was on duty around 6:30 p.m. on Tuesday when he radioed to say he was investigating possible thefts of navigation systems from vehicles and that he was about to speak to someone on a bike.
When other officers arrived on the scene, they found Rose injured on the ground.
After the shooting, several dozen armed officers combed the area surrounding the campus hunting for a suspect.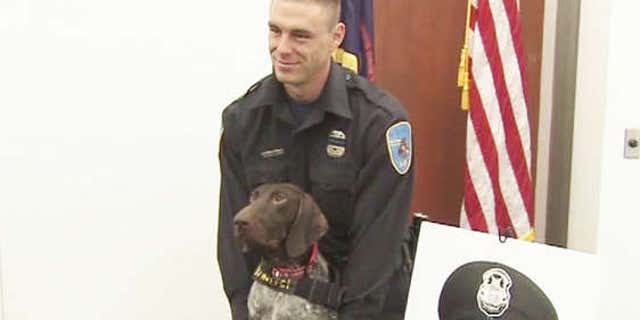 According to a statement posted on the university's website, police were searching for an African-American man in his 40s with a full beard. It said he was wearing a white T-shirt with white and black lettering, a skull cap and a brown jacket.
According to Fox 2 Detroit, DeAngelo Davis was named a person of interest in the shooting and was arrested three blocks from the shooting but it wasn't immediately clear whether he was the gunman.
Authorites have not identified the suspect.
The station reported that a $5,000 reward was being offered for the recovery of the gun used in the shooting. Deputy Detroit police Chief Steve Dolunt said the officer was not shot with his own gun.
Holt said the suspect has had several run-ins with police before.
Wayne State police Sgt. Cary Glazer told The Associated Press he had a physical run-in with the suspect five years ago. Glazer said he was patrolling the campus in 2011 when the man walking in the street swore at him and told the sergeant to get out of the way.
Glazer said he got out of his car and the pair struggled until other officers arrived.
"He wanted to fight — he wanted to fight an officer," Glazer told The Associated Press.
Wilson said they still don't know what the motive was for the shooting, "whether it was an ambush or something different."
He cited four recent incidents around the country in which law enforcement officers were shot, adding, "That's something that's crossed our minds."
Wayne State has more than 27,000 students and is located in the heart of Detroit. Wilson said the school employs around 65 officers, some of whom help patrol areas around the campus.
The Associated Press contributed this report.