Water park co-owner free on bond in Kansas murder case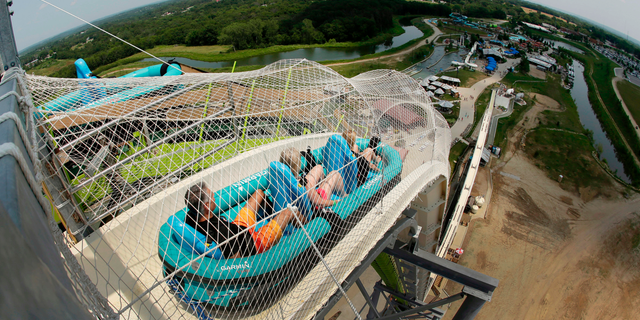 KANSAS CITY, Kan. – A water park co-owner charged in the decapitation death of a 10-year-old boy on a 17-story Kansas waterslide was freed on bond Wednesday as the criminal case moved forward against him and two others.
Jeff Henry, co-owner of Texas-based Schlitterbahn Waterparks and Resorts, posted a $500,000 bond within hours of being booked into the Wyandotte County jail in Kansas.
Henry was extradited from Texas, where he lives, after he was indicted last week on charges including second-degree murder in the 2016 death of Caleb Schwab at the water park in Kansas City, Kansas. His attorney didn't immediately reply to a phone message seeking comment. Henry is due in court Thursday.
The slide's designer, John Schooley, was arrested Monday in Texas and also faces charges including second-degree murder. During a hearing Wednesday, he agreed to be extradited to Kansas and will be transferred there next week, said Dallas County sheriff's spokesman Raul Reyna. An attorney for Schooley didn't respond to a request for comment.
Another executive is charged with manslaughter.
A Kansas grand jury indicted Henry and Schooley men on allegations that Henry made a "spur of the moment" decision to build the Verruckt — touted as the world's tallest waterslide — and that he and Schooley lacked technical or engineering expertise in amusement park rides.
Prosecutors argue that the ride violated "nearly all aspects" of longstanding standards established by the American Society for Testing and Materials.
"In fact, the design and operation of the Verruckt complied with few, if any, of the industry safety standard," the indictment states.
The raft Caleb was riding on went airborne and hit an overhead loop on the slide.
Schlitterbahn spokeswoman Winter Prosapio said in an earlier statement that the indictment "is filled with information that we fully dispute."