'Wasn't his intention': Mom speaks out after 9-year-old girl killed in home invasion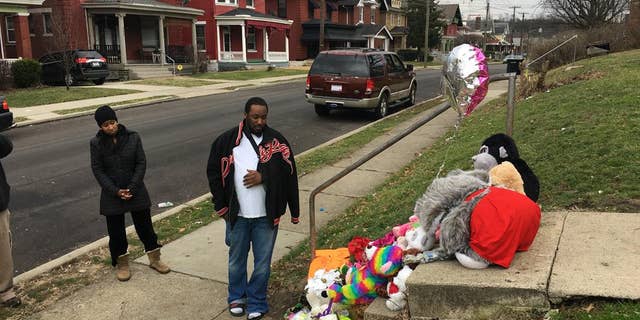 A mom whose life was forever changed when her 9-year-old daughter was shot dead in a home invasion begged for the suspects to step forward -- but said she understood that the shooter didn't plan to kill.
THREE FACE MURDER CHARGES IN 1993 LOS ANGELES APARTMENT FIRE
"I know, and I think everyone else knows, this wasn't his intention,'' Amber Caudell told The Cincinnati Enquirer. "He didn't come in there and intend to shoot and kill a 9-year-old kid."
Alexandrea "Sissy" Thompson and her father, 39-year-old Alex Thompson, were shot last month at the home in Cincinnati. The dad said he was struggling with an intruder who held a gun to the girl's head.
PLANS FOR ROMANTIC DINNER WENT AWRY BEFORE TEXAS STUDENT DISAPPEARED
"She was calling me and said, 'daddy,' and I'm like 'what,' and I turn to the other side and I see the guy covering her mouth with a gun to her head," the father told Fox 19. "My daughter said they asked her for weed and money... and I don't sell drugs."
"I think they had a plan in mind and it didn't turn out how they planned and Sissy was killed,'' Caudell told the newspaper. "They need to turn in the person who did this. Someone needs to come forward."
Alex Thompson said he saw an opportunity to try wrestling the gun from the man's hands. However, instead of running out of the room to safety, he said his daughter hid behind him.
The father reportedly was shot four times. Relatives said the bullet that struck the girl may have hit her father first.
Police have not announced any arrests. They said at least three men were spotted running away from the home after the shooting.
"I want to know what happened on that third floor. I emailed the detective and told them I want to know exactly what happened up there,'' Caudell responded.
Mourners remembered "Sissy" as a child full of laughter and love. Several of her teachers were among those attending Saturday's funeral at Spring Grove Cemetery's Normal Chapel.
The Rev. Alecia Braddock of The Calvary Church in Cincinnati said in a sermon that killings must stop and urged people to "stop killing our babies."