Washington Teachers End Strike After Students Miss 8 Days of Class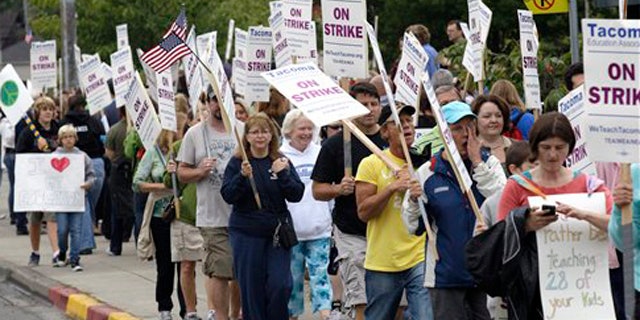 NEWYou can now listen to Fox News articles!
TACOMA, Wash. – Striking teachers in Washington state's third-largest school district voted Thursday afternoon to accept a contract, ending a walkout that has kept students out of class for eight days.
The union for the Tacoma school district's 1,900 teachers announced that the vote at a high school gym was 98 percent in favor.
The vote was on a deal reached Wednesday night after more than seven hours of talks at the office of Gov. Chris Gregoire, who had asked negotiators to stay until the two sides could reconcile their differences. The governor has no direct control over Washington schools but stepped in to use her influence as a mediator.
Union leadership touted the contract at a news conference late Wednesday, calling it "what we've been asking for."
"We have a fair contract that respects teachers and is also good for the students of Tacoma," said Andy Coons, president of the Tacoma Education Association. "We want nothing more than for school to start on Friday."
Teachers were told the three-year contract would keep salaries and class sizes the same. On the most contentious issue of teacher transfers, the contract calls for a committee of union and school district representatives to recommend a fair policy.
The union is concerned teachers could be transferred at the whim of principals. The district wants to consider factors in addition to seniority.
The education association had defied a court order for them to return to work. Pierce County Superior Court Judge Bryan Chushcoff had said he was considering giving the district the option of replacing teachers who are on the picket line.
Classes in the school district, which has 28,000 students, were scheduled to resume Friday.