Washington State deputy fired after photo shows her wearing shirt with Proud Boys logo: report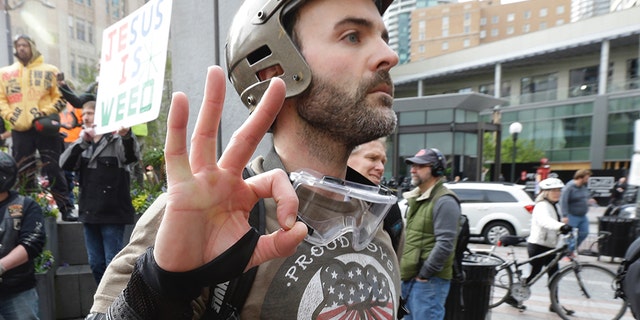 A Washington state sheriff's office ousted one of its deputies last week after she was allegedly seen in a photo wearing a shirt with a logo associated with a controversial conservative men's organization.

The Clark County Sheriff's Office confirmed Friday in a news release that Deputy Erin Willey was fired Tuesday, after more than a year on the force, amid the results of an internal investigation.
The department did not divulge what the probe concerned, though a statement from Sheriff Chuck Atkins said, "Law enforcement officers are peacekeepers whose core mission is to protect and safeguard the community.
"My expectation is that my employees do not engage in activities or associations that undermine or diminish our role as peacekeepers," the statement continued.
The Columbian of Vancouver, Wash., reported that the investigation stemmed from a photo, obtained by the newspaper, of Willey sporting a black sweatshirt. The shirt bore a logo said to be connected to a group called the Proud Boys.
The photo of the shirt, published by the outlet, appears to show a weapon and a tube of lipstick crossing one another with a white heart underneath and the letters P, B and G in the other three corners. The letters reportedly stand for "Proud Boys' Girls."
An additional photo of the former deputy also appeared on a Twitter page connected to the group, the Columbian reported.
The Southern Poverty Law Center identifies the group as "self-described 'western chauvinists' who adamantly deny any connection to the racist 'alt-right,' insisting they are simply a fraternal group spreading an 'anti-political correctness' and 'anti-white guilt' agenda."
The statement from the sheriff's office describes the firing as a "personnel matter" and says the office will not be releasing further information. The sheriff's office did not immediately respond to a Fox News request for confirmation of the newspaper's report.
Attempts by Fox News to reach Willey were unsuccessful. The Columbian said she did not return their request for comment.
The Associated Press contributed to this report.