Washington police officer killed after being struck by patrol vehicle during pursuit, officials say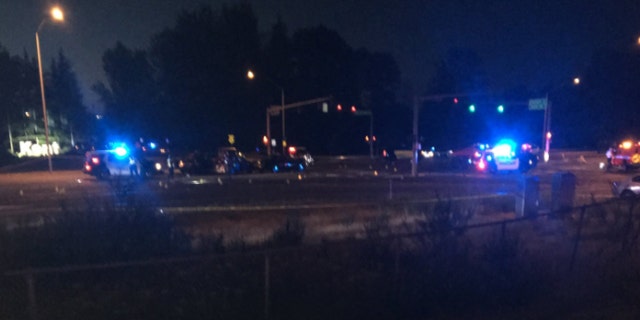 A Washington officer was killed Sunday morning when he was struck by patrol vehicle while deploying spike strips to stop a suspect's truck during a pursuit, police said.
The Kent police officer, who was identified as Diego Moreno, was assisting with a vehicle pursuit when he was killed.
"We are deeply saddened by the loss of Officer Diego Moreno. He was part of our family and we will always have him in our hearts. Please continue to keep Officer Moreno, his family, friends, and colleagues in your thoughts and prayers," the police force wrote on Twitter.
Washington State Patrol Capt. Ron Mead said in a news conference that preliminary investigation showed the cop was killed when a Kent Police Department patrol vehicle hit him.
"Make no question about this, were it not for the actions of this suspect or suspects, this officer would be alive today. It's directly because of the suspect or suspect's actions that led to the officer's death," Mead said.
Police received calls about a shooting just before 2 a.m. Officers in the area heard gunshots and rushed to the scene, where they saw a red truck fleeing the area, police said. Witnesses told cops the truck may have been involved in the initial shooting.
Officers deployed spike strips in an attempt to stop the suspects.
OFFICERS KILLED IN THE LINE OF DUTY IN 2018
The police officer pursuing the red truck struck another officer who was deploying spike strips at the time. The patrol car then crashed into three other vehicles, according to Mead.
"The Officer is an eight-year veteran with Kent Police; his contributions to our department, and positive impact on his co-workers and the community, have been significant," the police department wrote on Facebook.
The officer in the patrol car was also injured. He was taken to the hospital and is in critical but stable condition, police said.
The red truck also hit one of the spike straps and crashed. One person was arrested.
Mead said officials are investigating the incident and would not comment whether they are searching for more suspects.
The collisions shut down Washington State Route 516 for hours.