Washington authorities ID mudslide victims, including 5-year-old girl, Vietnam War veteran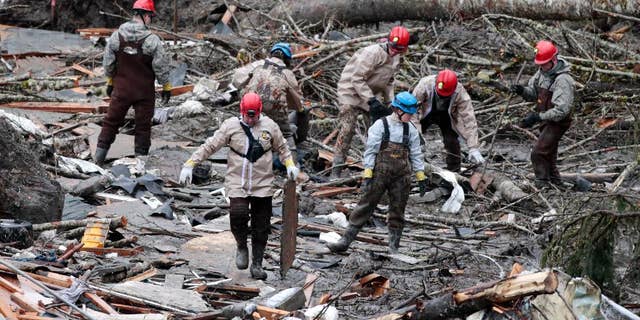 NEWYou can now listen to Fox News articles!
ARLINGTON, Wash. – Washington state authorities have begun to identify some of the people who died in last weekend's mudslide in a community 55 miles northeast of Seattle. The Snohomish County Medical Examiner's Office said those identified so far died of accidental blunt impact.
Friends and family member shared details of their lives:
___
KAYLEE B. SPILLERS, 5, ARLINGTON
Kaylee was one of Billy and Jonielle Spiller's four children. The family moved to the area about two years ago from Seattle, NBC News reported.
Billy Spillers, a chief petty officer at Naval Station Everett, is missing, along with his 2-year-old daughter, Brooke, and 13-year-old stepson, Jovon Mang.
The Spillers' 4-year-old son, Jacob, survived and was among the first rescued by helicopter.
___
STEPHEN A. NEAL, 55, DARRINGTON
Stephen Neal owned his plumbing business for about 30 years, son Ryan Neal told The Seattle Times. He also was an independent contractor who was working at the home of a woman who is missing in the slide.
Ryan Neal said his father was always concerned about others. "If there were elderly ladies scrounging for pennies, he'd be there. He was definitely out to help people."
___
WILLIAM E. WELSH, 66, ARLINGTON
William Welsh was an electrician and a Vietnam War veteran. He worked for 25 years at Marysville-based Whitley Evergreen, where he was head of the electrical department, The Times reported.
Barbara Welsh said her husband was heading out to install a new water heater at the home where Neal was working.
___
CHRISTINA A. JEFFERDS, 45, ARLINGTON
The morning of the slide, Christina Jefferds was watching her 4-month-old granddaughter while the girl's mother went up the road to Arlington.
Dale Petersen, the baby's great-uncle, confirmed to The Associated Press that young Sanoah Huestis also died in the mudslide, but authorities have not confirmed that death.
Jefferds worked in a Marysville dental office. Employees there called her a true friend and a steadying force in times of stress.
Jefferds' ex-husband, Doug Massingale, was told she didn't suffer when she died in the slide.
Massingale said he was grateful that his daughter, Natasha Huestis, and Jefferds' firefighter husband, Seth, survived.
___
LINDA L. MCPHERSON, 69, ARLINGTON
Linda McPherson, a former librarian and a school board member, grew up with her six brothers and sisters in Oso in a home on Washington Highway 530.
She and her husband, Gary "Mac" McPherson, bought the land next door to her parents and lived there for 40 years.
Her parents' home later stayed in the family when their nephew and his wife moved in. Both homes were destroyed by Saturday's slide, The Seattle Times reported.
The McPhersons were reading the newspaper when they heard a tremendous noise, daughter Kate McPherson said. The mud moved the home 150 feet.
The 81-year-old Mac McPherson woke up covered in mud and began digging himself out with a stick. Others came to his aid, and they found his wife's body nearby.