Walmart greeter honors veterans in Ohio with 'heartwarming' patriotic songs
NEWYou can now listen to Fox News articles!
An Ohio Walmart employee has gone viral for honoring local veterans by singing patriotic songs at the entrance of the Chardon superstore.
Staff and shoppers alike pause and pay tribute while Walmart greeter, Freddy Davidson, belts an honorable tune – something he does several times a day to clapping and cheering. The retired pastor and new grandpa got the idea after seeing a Korean War veteran stand near the checkout area beneath a flag hanging from the ceiling.
OFFICER GETS STANDING OVATION AT GRADUATION FOR STOPPING SCHOOL SHOOTER
"I saw the flag up there and said, 'hey, let me honor your service and let me sing the National Anthem if you'll stand with me,' and he said yes," Davidson told FOX 8.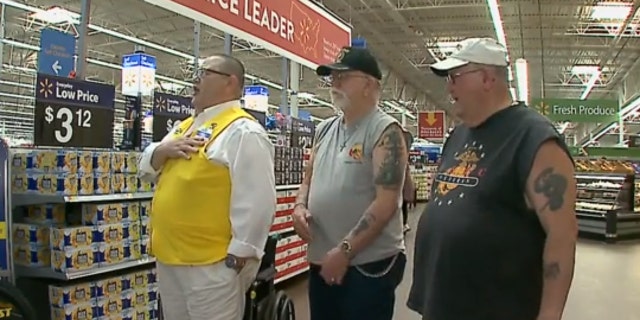 When Davidson sees a veteran, he honors them with a song – from the Star Spangled Banner to God Bless America. The Walmart greeter has been in a wheelchair since badly breaking his back more than 20 years ago but he makes sure to stand while he honors the vets.
"I can't stand for more than 4-5 minutes, but I stand for the anthem," he said. "It is painful, but you just don't notice it."
BUDWEISER TOASTS TO OUR VETERANS
Many veterans have been moved to tears.
"It's very heartwarming," Marine Corps Veteran Bill Gibson told FOX 8. "It gives me the shivers."
Assistant Manager George Hill, III said everyone in the store – from staff to customers – has enjoyed the gesture.
"They stop, they turn around, they face the flag, hand over their chest, they sing along with him and even hold hands," Hill said.
Davidson hopes he inspires others to take the time to thank a veteran.