Waitress in anti-gay receipt flap reportedly issuing refunds to donors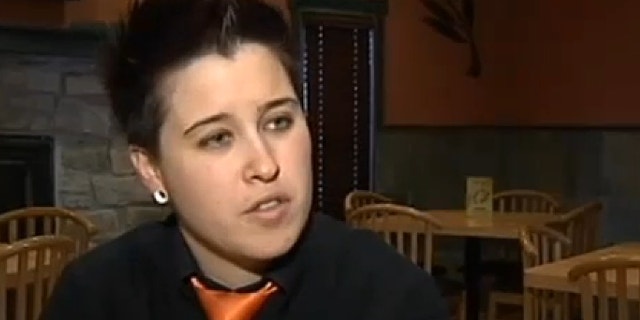 A New Jersey waitress who received thousands of dollars in gratuities after claiming she received an anti-gay note in lieu of a tip is reportedly issuing refunds to those who gave donations.
Dayna Morales, a 22-year-old former Marine, claimed last month that a family of four who racked up a $93.55 bill at the Gallop Asian Bistro in Branchburg, N.J., left her no tip, only a note saying they couldn't leave any extra cash for her service because they "do not agree with your lifestyle."
Morales quickly emailed the story to a gay advocacy website and later posted a photograph of the purported check on her Facebook page. The alleged incident made national headlines and resulted in thousands of dollars being donated to Morales, who said she would send all proceeds to the Wounded Warrior Project.
NBCNewYork.com reported Friday that three people who sent money to a PayPal account set up in her name say their donations were refunded. One of her supporters, Brittney Stilgenbauer of Tuscon, Ariz., said she felt bad about the situation.
"I felt awful for her, and I thought it would be great if people could come together and donate a dollar each and make up for her tip that she lost," said Stilgenbauer, who encouraged Morales to set up a PayPal account to accept donations.
At least one man who sent cash to Morales at the restaurant told NBCNewYork.com he has not gotten the money back. Morales did not respond to requests for comment from the station.
Meanwhile, a representative of the Florida-based Wounded Warrior Project could not confirm Morales had made any donations as of Wednesday, Bridgewater Patch reported.
A representative for the nonprofit group that caters to veterans returning from overseas checked for donations by Morales' name and within the ZIP codes for Bridgewater, N.J., where she worked, and Bedminster, where Morales said she lives, and was unable to locate any correlating donations. The donations may have been made from a different ZIP code or by a third-party, the representative told the website.
Morales, who served in the U.S. Marine Corps Reserve from July 2009 through May 2013 in Newburgh, N.Y., as an administrative specialist, could not be reached for comment. Restaurant manager Byron Lapola told NJ.com earlier this week that she remains off the schedule, at least temporarily.
"We're still waiting for the owners to finish their investigation," Lapola told the website. "It's pretty complex, so until then we're restraining comment."
The couple accused of leaving the note for Morales has since denied doing so, telling NBC 4 New York they did in fact leave an $18 tip on the $93 bill. The unidentified couple also provided the station a credit card statement that indicated the tip, according to the report.
NBC News has also reported that a Pentagon source said Morales was dismissed from the Marine Reserve Corps in May because she was not attending drills and that she was discharged under "less than honorable" conditions.
Several of Morales' acquaintances also since questioned her credibility. Kristina Calamusa, who described herself as a former friend of Morales, told The Daily Caller late last month that the waitress claimed to her that she was "blown up by a land mine overseas."
But, according to Calamusa, that story was false; Morales was never on active duty. The Journal News of White Plains, N.Y., has also quoted acquaintances of Morales who say she lied about her military service.
Julie Howat and Karolee Larkin, both 23, related to the newspaper a story Morales supposedly told them about her serving in Afghanistan and surviving an explosion that killed everyone in her platoon, leaving her as the unit's sole survivor. But Maj. Shawn Haney, a spokesman for the Marines, said in an email to The Journal News that while Morales did serve in the Marines Corps reserve from July 2009 to May 2013, there's no indication in her record of combat service in Afghanistan or Iraq.
"While (Morales) did not fulfill her reserve obligation, per the Privacy Act, administrative actions are not releasable," Haney said. "The same applies to character of service and type of discharge."
Click here for more from NBCNewYork.com.