Waffle House shooting suspect thought Taylor Swift was stalking him, was arrested at White House
NEWYou can now listen to Fox News articles!
The man suspected of gunning down four people at a Waffle House restaurant in Tennessee during an early-morning, half-naked rampage has a history of run-ins with police -- including once telling cops that music star Taylor Swift was stalking him.
Authorities in Tazewell County, Ill. revealed Sunday that police encountered Travis Reinking, 29, in a CVS parking lot on May 27, 2016 during an apparent "mental health crisis," according to a police report obtained by Fox News.
At the time, deputies said Reinking believed Swift was stalking him, hacked his phone and had climbed a building to chase him. He also threatened to kill himself, according to the sheriff's report.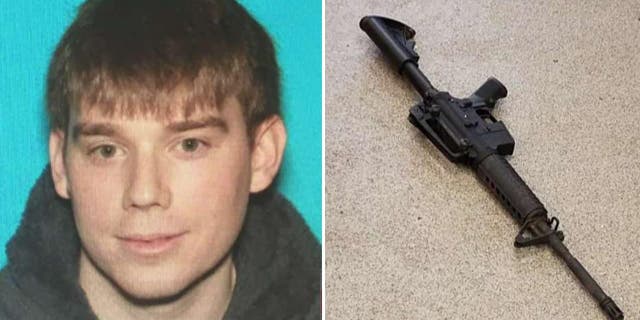 Reinking, whose relatives claimed he had been having delusions since August 2014, said Swift hacked his Netflix account and told him to meet her at a Dairy Queen, according to the report.
A little over a year later, the Tremont Police Department found Reinking swimming in a public pool in his underwear and reportedly exposing himself. In that June 16, 2017 incident, Reinking was wearing a pink woman's coat over his underwear at the time, and a concerned citizen contacted authorities because they believed he had an AR-15 rifle in his possession, the report said.
Investigators believed he had an AR-15 rifle in his car trunk, but it was never displayed and no charges were filed.
Last July, Reinking was arrested by the U.S. Secret Service after he crossed into a restricted area near the White House and refused to leave, saying he wanted to meet President Trump.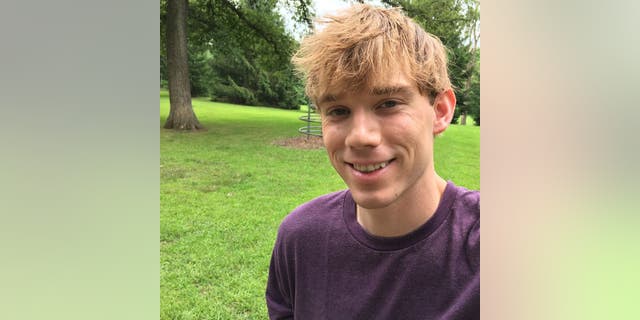 Reinking was not armed at the time, but at the FBI's request, Illinois state police revoked Reinking's state firearms card and seized four of his guns, authorities said. The AR-15 used in the shootings on Sunday was among the firearms seized.
WAFFLE HOUSE SHOOTING SUSPECT MAY BE ARMED, WAS ARRESTED NEAR WHITE HOUSE IN 2017, POLICE SAY
"Reinking was charged with unlawful entry after crossing an exterior security barrier near the White House Complex," the Secret Service told Fox News. "Information regarding the arrest was provided to our law enforcement partners, including the FBI, at the time of arrest to ensure all appropriate authorities were aware of the circumstances surrounding Reinking's arrest."
Then, in August, Reinking told police he wanted to file a report about 20 to 30 people tapping into his computer and phone and another group of people "barking like dogs" outside his residence, according to a report. Reinking told the officer he felt people were "baiting him into breaking the law" and watching him, and explained "this all started after he started writing Taylor Swift."
Reinking agreed to go to a local hospital for an evaluation after repeatedly resisting the request, the report said.
"There's certainly evidence that there's some sort of mental health issues involved," Tazwell County Sheriff Robert Huston told the Associated Press on Sunday. But Hutson said deputies ultimately returned Reinking's guns to his father on the promise that he would "keep the weapons secure and out of the possession of Travis."
Nashville Police spokesman Don Aaron said that Reinking's father "has now acknowledged giving them back" to his son.
After the shooting, police recovered three of the four guns originally taken from Reinking, officials said. They believe he still has at least one handgun.
NASHVILLE SCHOOLS IN 'LOCK-OUT' MODE AS MANHUNT INTENSIFIES FOR WAFFLE HOUSE SHOOTING SUSPECT
It is not clear why Reinking moved recently from Morton, Ill., to Nashville and if it had anything to do with being near Swift. Police say he was employed in construction for a while, and there would have been enough work in the booming city for him.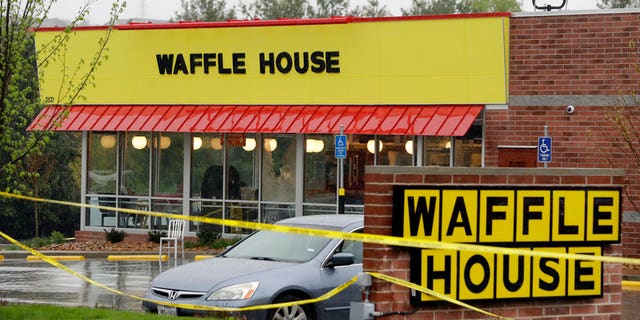 Police say Reinking drove into the Waffle House parking lot in his gold Chevy Silverado pickup early Sunday and sat there for about four minutes before opening fire outside the restaurant, killing four people.
More than 80 Nashville police officers continued to search for Travis Reinking early Monday, authorities said. Agents with the FBI, the U.S. Bureau of Alcohol, Tobacco, Firearms and Explosives and troopers with the Tennessee Highway Patrol joined the manhunt.
He was also added to the Tennessee Bureau of Investigation's Top 10 Most Wanted list.
Fox News' Mike Arroyo, Nicole Darrah, Kevin Kirby and the Associated Press contributed to this report.